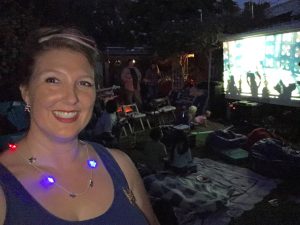 For 2017, a fun crowd of 28 enjoyed Fireworks & Fun for the Fourth, with festive food, new patriotic patio furniture & decor, and a Rock Band and s'mores after-party as the traffic gridlock died down around our creative parking! Thanks to the City of Santa Clara for the show and everyone who helped us celebrate!
Since the 4th was a Tuesday, I had a whole 3-day weekend to spread out party prep, which worked well, since we had Halloween Scream Team work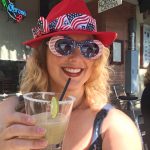 sessions that same weekend! I started with a patriotic pedicure before dressing up for Margarita Friday, mixing the custard base for the ice cream before dinner, which
gave enough time to chill in the fridge to churn into ice cream after dinner, then it was into the freezer to harden and not touch until the party! I love the velvety smooth vanilla but that's also why I only make 6 quarts of it once a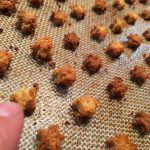 year…sooo good!
I decorated the inside over the weekend, then cut and toasted the tiny star croutons, prepped the pastry brie, did all the advance prep for the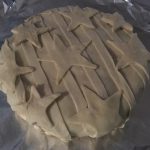 various salads, and went for a solo 5-mile hike on my Monday holiday. I don't hike with that hat, but I was going shopping for some last ingredients afterwards! 😉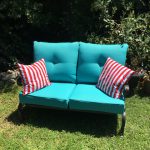 The 2017 spring patio furniture overhaul was inspired by two turquoise adirondack chairs my grandma gave me for Christmas. I had been in the market for new patio furniture but never finding anything I liked enough that fit my style. I finally found some dark-bronze cast aluminum love seats and bistro table sets at Target with free shipping online. Those all required assembly (whew!), and Target's aqua/turquoise cushion color for 2017 blended well enough with the
wooden chairs that I decided I could have everything matching for summer, but what about other holidays where turquoise & aqua are not in theme? The first such holiday was 4th of July, so I thought red & white stripes using the turquoise as the "blue" should work well enough, plus work with my blue-green wicker plate holders I use for movie nights all summer. I found red & white striped plates that fit my wicker holders, and I bought red & white striped fabric online to sew a quick set of 4 pillow covers to fit the gold pillows that have now moved from living room decor to patio decor. I think it looked pretty nice!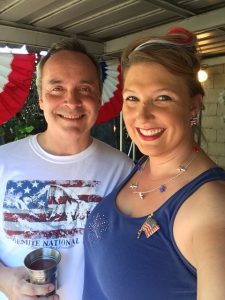 This was our first fireworks party that Glen & I hosted together, but it was also our first 4th of July without party kitty Onyx, and I dressed Ebony and Obsidian in their patriotic collars and got a couple decent photos of them well before any guests arrived, but they hid the whole party as they always did. On party day Glen helped with sweeping, arranging outside furniture, setting up the "cornhole" bean bag toss game, & getting party ice, but it was still too hot for my hair to be down, so I twisted with red, white & blue hair and wore blinking LED jewelry with new patriotic earrings. Glen didn't have any patriotic t-shirts, so glad he fit my Yosemite flag tee I got several years ago!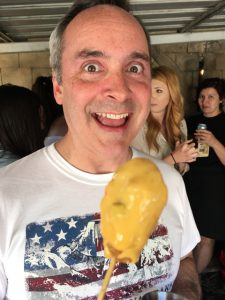 I ran out of time for my menu chalkboard, but we had mostly the same menu as recent years past, with the newly-added watermelon keg, and Glen wanted warm nacho cheese with tortilla chips, so I got out my small crockpot to keep the cheese warm on the inside patio table. Since I missed my bacon-in-the-batter mini Corndog Sparklers for 2016, I made sure to make them for 2017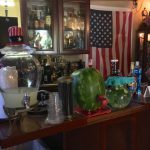 (yum!), and Glen went extra decadent by dipping one in warm nacho cheese…wait, what?!? 😮
On the bar was lemonade, the watermelon keg new from 2016, and my traditional make your own Razzle-Dazzle-Tini station. A guest had brought a giant stars & stripes vodka bottle, so Skip bravely tried layering with that!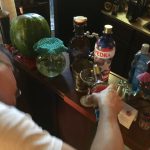 Ellie had fun making her own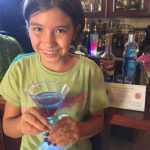 without the vodka, perfectly layering her mocktail Razzle-Dazzle-Tini! Maybe she's channeling her dad's bartending skills?
Snow cones are always a hit on a hot day! Thankfully we not only had expert snow-cone maker Ellie in attendance to show everyone how to make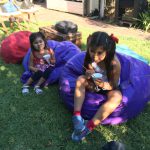 their own snow cones, but the Ouye girls enjoyed them too! One of these years I'm going to have time to make myself a spiked snow cone again! 😉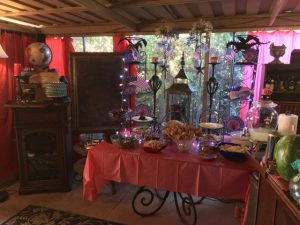 Here was the rest of my menu for 2017: Patriotic Pastry Brie with Smorgabritta Spiced Loquat Preserves, Aged Manchego Slices with Smorgabritta Quince Preserves, Cheery Cheeses and Grilled Sweet Potato Salad, Tricolor Quinoa Apricot Cashew Salad, Old Glory Green Salad…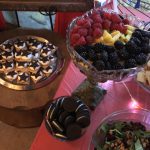 Festive Fruit Salad had the full assortment of summer fruit I enjoy, but since I put the pineapple, blackberries and raspberries on top in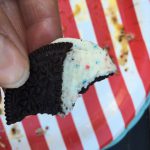 stripes, I took a photo before stirring everything together. 🙂 Those are the new Fireworks Oreos you see in a bowl, with popping candy inside the cream so they are like fireworks in your mouth! Not homemade but so fun that I'm going to look for them next year!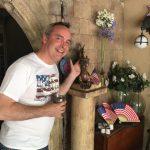 Since my poor loquat tree died over the winter, leaving my shed roof exposed, there was no storage location for the patio castle walls and archway, so we left them in place after Halloween, including the columns with the new copper dragons, who joined in the festivities by holding American flags for the occasion! I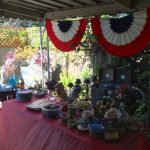 hadn't hung the bunting yet, so Skip & Keith hung them from the patio ceiling, a new idea that looked great over the BBQ station & all the guest food!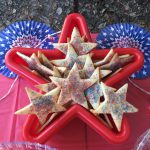 I always like my Sparkling Sugar Stars with no frosting, just red & blue sugars sprinkled on the sugar cookie dough before baking. I usually make them with non-dairy margarine and egg-replacer powder so they are vegan. They are only slightly sweet, so refreshing if others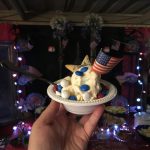 bring more decadent desserts, and they are perfect with my annual 6-quart batch of Homemade Old-Fashioned Vanilla Custard Ice Cream. I dish up the ice cream just in time so we can all enjoy our dessert with the fantastic fireworks show, which was a blast yet another year! Thanks to the City of Santa Clara for the show!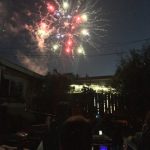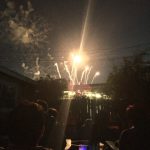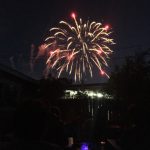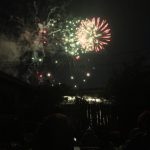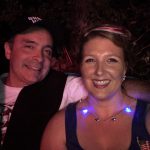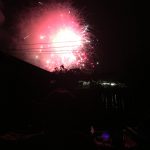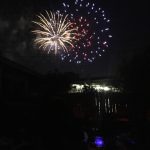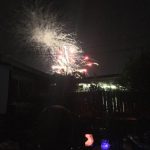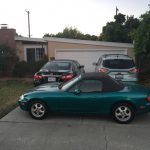 The downside to living so near to such a spectacle is that everyone has parked in our neighborhood to walk to the park, so parking near my house is always a challenge, especially later in the evening closer to the fireworks show. This is why I start my party earlier, so people can stagger their arrival times and usually they get parking without walking too far away. Some first-time guests arrived too late to find anything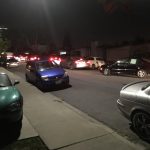 close enough to walk, so we pulled both our driveway cars as close to the garage as possible, and with aiming guidance from Glen & others, I drove the Briata up on the grass to park sideways across my driveway, completely legal since no sidewalk was blocked! This freed up the sidewalk spot for our guests, and they were last to arrive, thank goodness! However, even a half-hour after the fireworks had ended, the street STILL looked like this…total gridlock, so might as well stick around for the after-party fun! 😉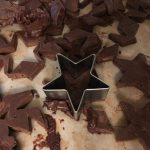 This time I cut thick stars of dark modeling chocolate for the Star-Spangled S'mores, and in case no one wanted a fire like some previous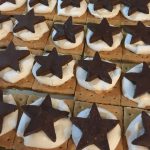 years, I pre-melted marshmallows them in the oven over the graham cracker squares, leaving the chocolate stars separate until party time. This year we did have a real fire while waiting for the traffic jam to subside, so we roasted new marshmallows anyway!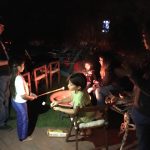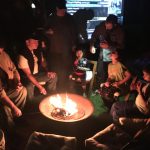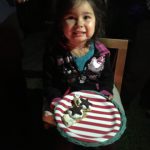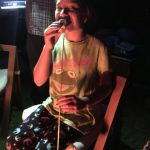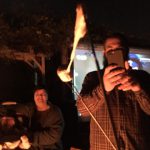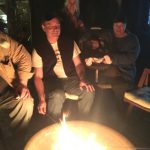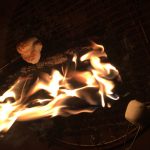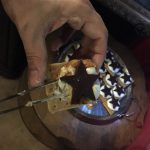 You can see the full photo gallery with all the partying people by clicking the link below. Huge thanks to everyone who helped and had fun yet another year! Hope Santa Clara keeps having annual fireworks so I can keep having my Fireworks & Fun party! 🙂