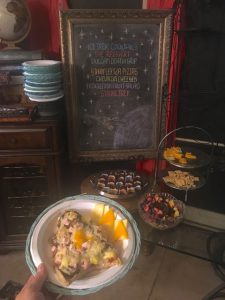 We had the smallest group since 2010 and it was roasting hot, but we still had a fun movie night for Star Trek Beyond, and Glen surprised me with an early birthday cheesecake! Thanks to the 7 die-hard movie-goers who celebrated with me and enjoyed Ice Trek Cocktails, Starfleetza Pizzas and S'more Trek not only with custom chocolates and homemade marshmallows, but even matching chevron graham crackers!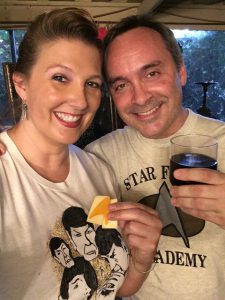 I wore my classic Trek miniskirt uniform for 50 Years of Trek last year, but costumes are nowhere near as fun when it's over 100F, so this year it was t-shirts and hair up for comfort! Glen fit my early-90s convention era Starfleet Academy shirt, and I wore my even older handpainted Spock tee with film camera tripod earrings in honor of movie night…I've enjoyed my Spock tee for about thirty years already, but I will sure be sad when it finally disintegrates, since it already has one small hole right in front!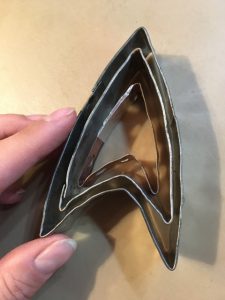 I have made several styles of Star Trek S'mores over the years, from 2010 for Star Trek II on National S'mores Day and Free Enterprise in two different styles using a homemade silicone mold and custom-bent cookie cutter, to 2013 for Into Darkness where I used marshmallow creme sandwiched between matching chevrons, to last year when I made matching chocolate and marshmallows, but ran out of time for matching graham crackers. Since I now finally have three chevron shapes in nesting sizes, I was determined to customize all three ingredients for S'more Trek!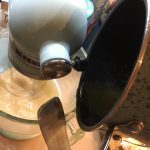 Homemade marshmallows make the most mess, so they were first! I used Alton Brown's marshmallow recipe again, but for some reason I'm always almost out of corn syrup, so I add honey to make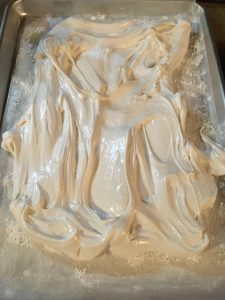 up the difference, which gives them a nice flavor. You definitely need a stand mixer for this recipe! While it's mixing, prepare a sheet pan with wax paper dusted thoroughly with powdered sugar so it's ready when you need to work quickly.
Once the marshmallows have finally fluffed to the top of the bowl, spread quickly into your prepared sheet pan. Anywhere not liberally dusted with powdered sugar will glue permanently, so fair warning! I can never get the top surface perfectly flat, so I do the best I can while spreading them into the pan, then I use a greased sheet of wax paper to burnish the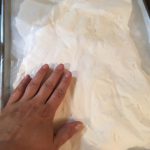 surface by rubbing in circles with my hands. Again, be very careful, since if there is any plain wax paper that touches the marshmallows, it will stick forever! Let the marshmallows set overnight before cutting.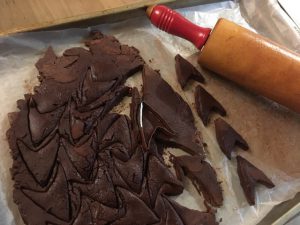 While you're waiting for the marshmallows to set, you can cut your chocolate! I had made chocolate chevron molds before that were intentionally the thickness of a Hershey bar, but they were sized for the classic movie Trek belt buckles, which was a small serving of chocolate. I had leftover modeling chocolate that hadn't been eaten as previous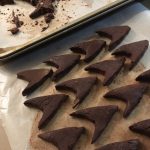 s'mores, so I remelted it in the microwave, spread it for thicker chocolates, then used the medium chevron cutter to cut as many chocolate chevrons as I could. If the chocolate is too soft, the cuts reseal themselves too quickly, but if the chocolate has hardened too much, it will crack as you push the cutter in, so try to find the sweet spot. Refrigerate the chocolate chevrons if it's summertime, but don't freeze chocolate.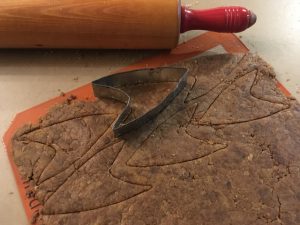 Next were the custom chevron graham crackers! I've been using this vegan graham cracker recipe for years, and it's always super-tasty with no special ingredients required to purchase. It is a very crumbly dough, and whole wheat flour doesn't absorb water as well as white flour, so have some water handy to knead in when it gets too dry. It doesn't roll into sheets very well, so I pat the dough together as much as I can to prevent holes, then use my rolling pin to smooth out the top surface, leaving the dough a good 1/4″ thickness so the graham crackers don't crumble apart. Cut the shapes on a silicone mat so you can pull away the extra dough instead of transporting the finished shapes, since they are too fragile until after baking. Store just like cookies in an airtight tin for up to two weeks.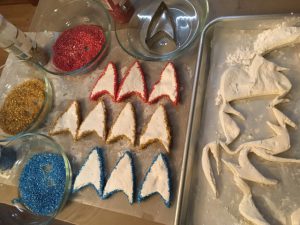 After the marshmallows have set overnight, it's time to cut them! Keep a bowl of water handy for dipping your cutter, or else it gets sticky too quickly. You can dust the cut edges with powdered sugar for plain designs, but I thought that my pearlized sugar in command gold, sciences blue and services red would be the perfect pop of color! Since the cutter pushes the marshmallow at the edges of the design, leave space when cutting the next marshmallow, otherwise you'll have an oddly-shaped edge. As soon as I cut the marshmallow slab with the chevron cutter, I gently removed the marshmallow chevron from the cutter, dipped all the cut edges into a bowl of the colored sugar, then set aside, making sure I had an even number of colors for variety.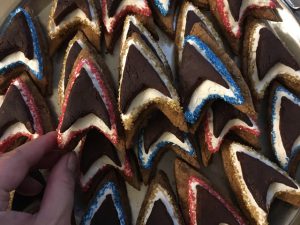 If not serving immediately store your marshmallows in an airtight tin or bag so they don't harden. When ready to assemble your S'more Trek, stack the chocolate and marshmallow chevrons on the matching graham crackers for display. For eating, remove the marshmallow from the stack to roast on a stick over the fire, then smush the melted marshmallow between the chocolate and graham cracker chevrons. Yum!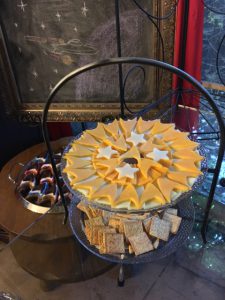 Since I always have an assorted cheese plate and the smallest chevron cutter fit the slices, it was easy to make a plate of Chevron Cheeses! Since there was more white cheese than orange, I made gold chevrons like Classic Trek shirt emblems. I had a few white stars leftover from the 4th of July, so I added those around the center.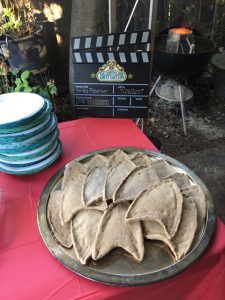 Grilling pizzas is popular for my movie nights since you can completely customize your own pizza! Starfleetza Pizzas are the perfect name (courtesy of my friend Eileen several years ago), and the chevron shape is not only fairly easy to form from pizza dough, but it also holds toppings well. I made the crusts from scratch using my bread machine with the same whole wheat sourdough recipe I've been using for years now. The dough is pliable enough that it's fairly easy to form into any shape you like, then parbake on silicone sheets for 2-3 minutes to set the shape. Store in gallon zip bags with wax paper between crusts, and refrigerate for about 3 days or so, but if you are storing for longer, freeze instead.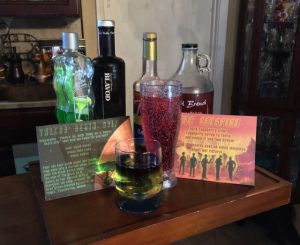 As for the rest of the menu, Federation Fruit Salad was just my normal summer fruit salad with a fun name, and I recycled the Ice Trek Cocktails from last summer since they were tasty, using hard raspberry cider, raspberry syrup and vodka for The Redshirt instead of premixed margaritas and extra tequila, but I made more elaborate recipe cards for them.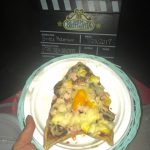 We grilled some watermelon along with our pizzas, and I added a Chevron Cheese in the middle of my pizza to highlight the matching shapes. Everyone had a good time watching some funny Star Trek comedy sketches before the trailers and the main feature.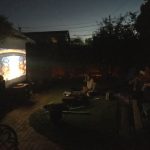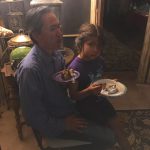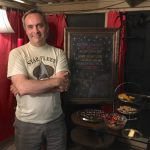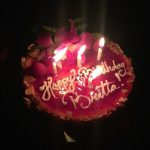 After the movie, Glen brought out a cheesecake with candles and everyone sang Happy Birthday to me! I was completely surprised! Glen was sneaky and used his car running in the driveway as the refrigerator for the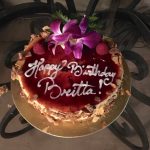 cheesecake, otherwise I would have seen it for sure! See how the candle in front is shorter? He said "It was a small cake, not much room for candles, so I used the natural logarithm of Britta's age = 3.8 candles, knowing how Britta appreciates geek humor." Hahahaha…love it!
You can click below to read the full Ice Trek Cocktail recipes and see the rest of the photos…and stay tuned for the summer season finale of Cinema Brittahytta!
Ice Trek Cocktail Recipes:
Vulcan Death Grip
Supposedly "there's no such thing as a Vulcan Death Grip"…but why not taste for yourself?
sour apple mixer
lemon-lime soda
black vodka
Pour the sour apple mixer and lemon-lime soda into a martini glass. Gently pour the black vodka along the side of the glass so it layers on top. Garnish with a Starfleet ice cube to honor the first green-blooded Vulcan in the ranks…Fascinating, indeed.
The Redshirt
hard raspberry cider
raspberry syrup to taste
…add vodka if you feel brave!
Warning: Redshirts sent on away missions might not return!