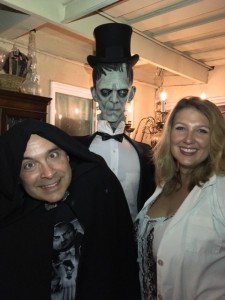 We opened our 10th summer backyard movie season with the first movie ever shown at Cinema Brittahytta…Young Frankenstein! Most of us had seen it before, but little Ellie had a ball viewing it for her first time, at the same age I first saw it! 14 adults & 3 kids made for a great celebration, enjoying the special themed menu, our Fancy Frank standing tall ready for Puttin' on the Ritz, cloaked Glen with hunchback as Igor, yours truly in my lab coat as Inga, my new theatre trailer, and my new lighted movie marquee!
I first started showing backyard movies 10 summers ago, and I kept improving the experience over time with an 8-foot screen, better projector, and nice speakers. I didn't edit my theatre policy trailer until a few years in, a very basic Star-Wars-style rolling credits into the distance over a basic starfield with my logo, but I thought it would be a nice 10th anniversary celebration to edit a new theatre policy trailer. I used the same soundtrack of audio clips from some of my favorite movies and my same hand-drawn logo, and the same text for the credits thanking everyone who contributed to Cinema Brittahytta, but I added teal theatre curtains opening to an aqua nebula moving starfield, and I added a little basic 3D to the logo spinning in from a distance at the end. Maybe for the 20th anniversary I'll have finally learned real motion graphics? 😉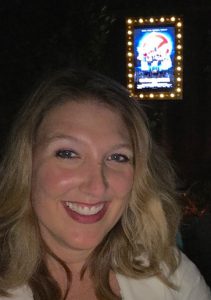 The other new feature for my home theatre is a digital lighted movie marquee! I had purchased several 32″ flatscreen TVs for previous Halloween use, and I didn't have a use for them the rest of the year, so I thought why not build a frame and load a slideshow/video on a USB stick and use one of the TVs as a digital poster frame movie marquee! Since the TV isn't balanced to hang vertically without a wall behind it, I had to mount it on the back fence, where I happen to have a bare spot for a few years until a new tree grows. Full construction instructions will be coming soon in a separate post, including lessons learned how to improve my next attempt, but I think it works really well!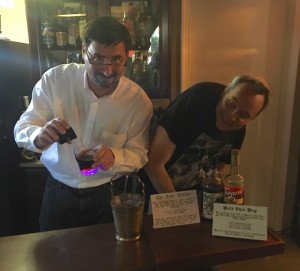 When guests arrived for Young Frankenstein, we started with two custom cocktails as is now my summer tradition. Here some brave souls are using my Young Frankenstein the Musical shot glass to mix a Walk This Way cocktail, which was quite tasty and popular, so it might return in another disguise for a different movie someday! This "Walk This Way" cocktail is as dark as Igor's cloak. Once you Walk This Way enough, you too will say, "What hump?" Pour equal parts blackstrap rum, chai tea syrup, lemon-lime soda over ice into a rocks glass. Stir to combine, and enjoy!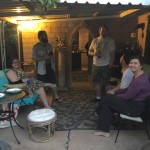 For flavor variety I also created The Frau Blücher: This straitlaced black & "white" cocktail is why the horses rear in fear every time they hear the name of Frau Blücher! *whinny!* Pour two parts lemon-lime soda into a martini glass. Gently layer one part black vodka over the top. Enjoy the black and "white" layers, but stir before enjoying a sip. Some of the partying people on the patio were partaking in that one. 😉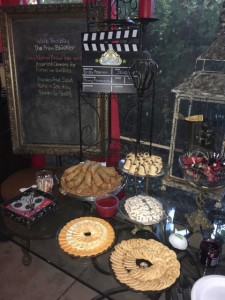 Here is the full menu for Young Frankenstein, listing the two custom cocktails Walk This Way and The Frau Blücher, then Abby Normal Brain Pate and Assorted Cheeses for Puttin' on the Ritz, Franken-Fruit Salad, Rollz in Zee Hay, and Franks-In-Steins! Can you spot the small foam Abby Normal brain that was a souvenir from the touring musical? 😉 The Abby Normal Brain Pate is the same Halloween recipe I've been making for years, still as delicious as ever with cream of mushroom soup, cream cheese, shrimp & creole seasoning,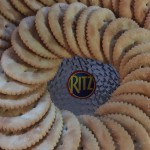 then my traditional cheese slices were there too, both ready for Puttin' on the Ritz on a plate with the logo added front and center so everyone would realize they were the authentic brand crackers!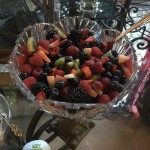 Franken-Fruit Salad was just my normal summer fresh fruit salad renamed for the occasion, but our Rollz in Zee Hay really cracked me up, since they are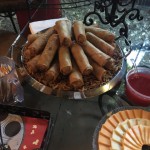 deep-fried eggrolls that are supposedly so addicting they are locally called "crack"…haha! I bought some canned fried onion strings for the bed of "hay" under the egg rolls, and voila! Rollz in Zee Hay! They are very tasty so there weren't many leftovers. 😉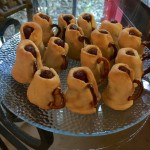 Sometimes a clever name creates a recipe you can't resist. These are basically pigs in blankets, a vintage classic appetizer, but by forming the dough differently and adding a pretzel handle, you have little Franks-In-Steins! These will appear again for our Haunted Hollywood Halloween this coming October, as well as in my new Eerie Elegance Eats cookbook!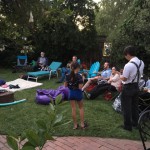 It was a lovely evening, not too hot and not too chilly, so we didn't use the firepits, and we have a new projector arrangement that allows for even more seating space! The original Cinema Brittahytta projector had developed some sparkles at the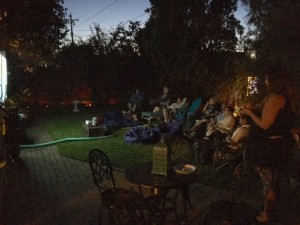 edges by the end of last summer, not bad for a 9 year run, but since now I have so many other projectors for Halloween illusions, one of the newer short throw projectors was perfect nice and close to the screen, so less trip hazard of power & HDMI cables through the grass, plus more people can sit in the center for an even better view!
You can see a few more photos of our 10th anniversary summer season premiere in the gallery below. Stay tuned for a couple more movies this summer, starting with a trip back to the Wizarding World for Fantastic Beasts and Where to Find Them…