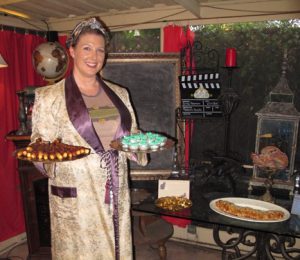 22 of us including 3 kids enjoyed a lovely evening at Cinema Brittahytta the same day I also got Owl Post from Hogsmeade, which was perfect since we watched Fantastic Beasts and Where to Find Them! The youngest witches enjoyed some Frozen Potions, we all enjoyed Frozen Butterbeer, Thunderbird and Swooping Evil custom cocktails, Candied Bacon Wands, teal and silver Deviled Occamy Eggs, and British "Banger" sausages on the grill, Nathania dressed in Queenie's coat brought tasty homemade strudel, I wore a fancy new brocade robe worthy of Gladrags, and Glen must be part Niffler since he scarfed a whole pile of chocolate coins during the movie! 😉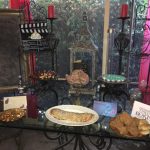 I had fun with the simple menu, and I had made menu cards to set by each dish, but I didn't get the chalkboard updated this time. I did get out my copper dragon sculpture and used my two matching dragon plate stands on the table, since dragons definitely count as fantastic beasts!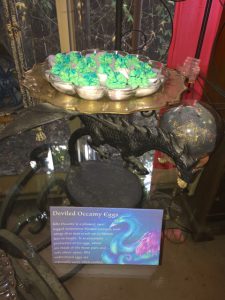 As soon as I saw the movie last November, I wanted an Occamy winged serpent since they are such gorgeous colors of blues and greens! Since their eggs are pure silver, I thought why not try making deviled eggs using silver food spray, since tinting the yellow egg yolks to a bright teal should be an easy food coloring task. I found a dramatic image online of an Occamy and created a menu description, pointing out we were only eating unfertilized eggs.
Deviled Occamy Eggs
The Occamy is a plumed, two-legged serpentine-bodied creature with wings that may reach up to fifteen feet in height. It is extremely protective of its eggs, which are made of the most pure and soft silver. The unfertilized eggs are especially tasty when cooked.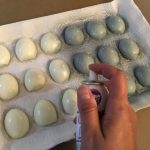 To make Deviled Occamy Eggs, split hard boiled eggs in half lengthwise, and pop out the yolks into a mixing bowl. Clean and dry the egg whites and use food decorating spray to coat with silver. Don't spray too much or it will run off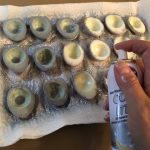 the egg and leave spots. I sprayed the backs of the eggs first, let them dry while I made the yolk mixture, then turned the egg whites over and sprayed the tops. The silver does come off on your fingers when moving them, so be careful when placing on your serving plate. The edible silver spray doesn't come all the way off the eggs, but it wipes easily off skin.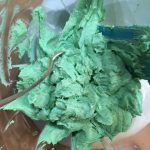 For the yolk mixture you can use your favorite deviled egg recipe plus enough blue food coloring to make the yellow yolks teal. I used greek yogurt, mayo and some truffle salt to taste, which were delicious! I used my stand mixer to get the yolk mixture as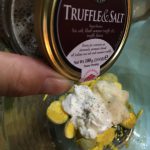 smooth and creamy as possible, then I used a piping bag with a large star tip to pipe the team yolk mixture into the silver egg whites. I used a clear plastic deviled egg tray to show off the silver, and they looked great in place on a gold platter on one of my dragon stands!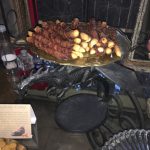 All the Candied Bacon Wands were scarfed by all my guests since they were so tasty! They would probably work better with thinner breadsticks, but no one complained. 😉 I used the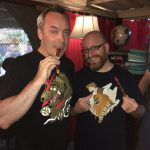 matching gold platter to the Occamy eggs on the other dragon stand, since the Candied Bacon Wands would sag bend too much if placed standing display more like magic wands.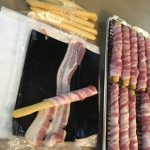 Depending how thick your bacon slices are compared to the length of your breadsticks, you might need to wrap two slices on one breadstick. My second package of bacon were slightly wider slices, and since the bacon will stretch a little while wrapping, I was able to use a single slice down the length of the breadstick. I did notice during baking that the bacon grease soaked into the breadsticks, making them soggy before the oven time finally made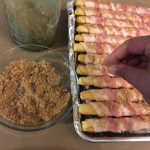 everything crisp, and depending how crisp the bacon was, they tended to bend a little even after cooling. Pretzel rods are thicker and shorter than the long thin breadsticks so they might not get as soggy, but pretzels are already so salty that they might be too much with the salty bacon.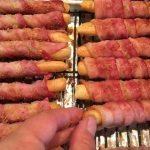 After wrapping each breadstick with bacon, place the loose ends down on a baking rack over a baking sheet so the grease can drain away while baking. Sprinkle brown sugar along each wand, bake for about 15 minutes, gently turn them over and sprinkle more sugar on the other side. This is when they are soggy, so be careful you don't break any breadsticks while you are turning them. Bake until the bacon is crisp on both sides, turning over again as necessary. Cool completely then serve and enjoy!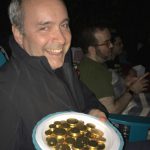 The easiest food to "make" were the Niffler Bait Chocolate Coins…just buy some foil-wrapped chocolate coins and set them in a big pile, preferably on a matching gold platter! The Niffler pretty much stole the movie with his adorable antics, but Glen stole all the Niffler Bait to eat while watching! haha…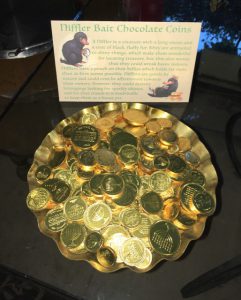 Niffler Bait Chocolate Coins
A Niffler is a creature with a long snout and a coat of black, fluffy fur. They are attracted to shiny things, which make them wonderful for locating treasure, but this also means that they could wreak havoc indoors. Nifflers have a pouch on their bellies which holds far more than at first seems possible. Nifflers are gentle by nature and could even be affectionate towards their owners. However, they could destroy belongings looking for sparkly objects, and for that reason it is inadvisable to keep them as a house pet.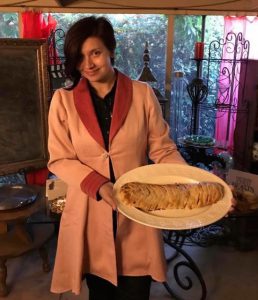 Nathania came as Queenie, complete with reproduction costume coat, and of course "you like strudel, dontcha honey?" It was extremely tasty with unsurprisingly no leftovers!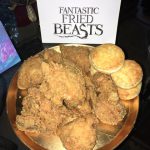 Jerry hadn't seen the movie yet, so he even found the fancy movie font for his sign and brought Fantastic Fried Beasts! The tasty fried chicken was scarfed down, but after watching the movie he felt a little guilty that the movie creatures were friends, not food. 😉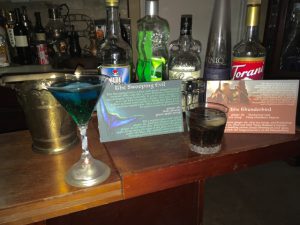 I couldn't resist creating custom cocktails inspired by a couple of the Fantastic Beasts from the movie. I took inspiration from a Dark & Stormy plus the iridescent feathers and shimmery liqueur for the Thunderbird, and layered green and blue for the Swooping Evil, and both were quite tasty if I do say so myself! The shimmery liqueur is almost sickly sweet but the chai tea syrup and dark rum balance it well.
The Thunderbird
The Thunderbird is a large, avian creature native to North America, and most commonly found in Arizona in the southwestern United States. They possess multiple and powerful wings which are known to change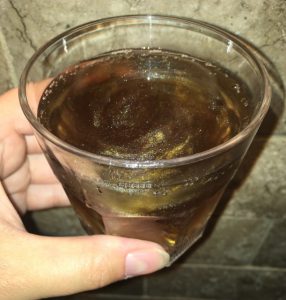 colors as they summons storms, with iridescent feathers shifting from various shades of gold, to electrifying blue, to grey and silver, to white, and even to deep navy. A close relative of the Phoenix, the Thunderbird can create storms as it flies and is highly sensitive to danger.
ginger ale
chai tea syrup
blackstrap rum
Viniq shimmery liqueur
Pour equal parts ginger ale, chai tea syrup, and blackstrap rum over ice, then top with Viniq shimmery liqueur. Watch the swirling storm clouds brewing in your glass, sparkling with the magical powers of the Thunderbird.
The Swooping Evil is a blue-and-green winged magical creature that ooks like a cross between a reptile and an extremely large butterfly. It can be quite dangerous, as it can feed on people's brains, but also able to deflect at least some spells by flying into their path. It secretes venom that, when properly diluted, can be used to erase bad memories.
ginger ale
blue curacao
green apple syrup
Fill a martini glass half-full of ginger ale. Add blue curacao until the ginger ale all turns blue. Gently pour the green apple syrup along the edge of the glass so it layers under the blue. Sip carefully since too much Swooping Evil venom can erase memories!
We enjoyed chatting, eating & drinking until it was dark enough for trailers, and a couple people had never seen the movie before but really liked it…hooray!
Hope you are enjoying your summer too! Two more movies this summer still to come so stay tuned…