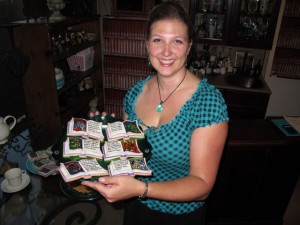 From November 2010 to September 2011 I was buying new hardware and setting up the new BrittaBlvd.com site, so there is a large gap for all my Cinema Brittahytta summer movies that year! Since the new Beauty & the Beast live action remake is almost here, it seemed a good time to catch up with details about when I showed the original Best-Picture nominated animated masterpiece in June 2011, especially my Beauty & the Beast Bookookies!
My Beauty & the Beast movie night was when I originally had the concept of Bookookies that later appeared as my Caroling Cookies for Christmas. My inspiration was the opening story told along with gorgeous stained glass panels, so I transcribed the relevant phrases from the movie and sketched my own smaller versions of the matching stained glass images that could stand the limits of piping and food-coloring pen resolution. That determined the size of each large cookie.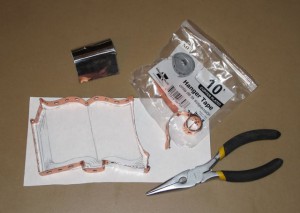 I could have cut the sugar cookie dough with a knife around a cardboard template, but I decided to make it easier on myself and make a custom cookie cutter out of copper pipe strap tape bent into shape then joined at the overlap using self-adhesive metal flashing tape. The holes in the copper strap make it a little tricky to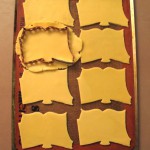 clean if your dough is too tall, but that usually isn't a problem for me. These need to be handwashed of course, but I've made lots of custom cookie cutters this way over the years, including life-size Mardi Gras Mask Cookies!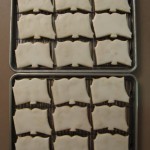 After the cookies were baked and cooled completely, I spread a flood coat of white royal icing that dried overnight so the books would be as smooth as possible for drawing and lettering such details. I didn't get my first edible printer until October 2011, so these original Bookookies were all hand-drawn and hand-lettered, sadly messier than I hoped since I was trying to make the book page curve without any guidelines to spoil my nice smooth white royal icing surface. I drew all the black stained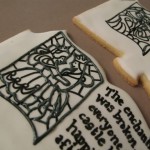 glass lead lines and lettering with a food coloring pen first, then I went over the color block outlines with a thin bead of black royal icing, which also needed to dry overnight before I could continue.
Once the black royal icing was dry, I used the small tubes of gel frosting plus custom-tinted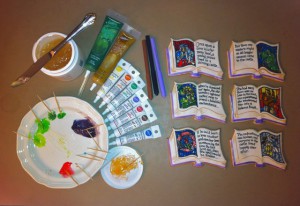 clear piping gel to have a full assortment of colors for the stained glass effect. I waited until after all the gel was finished before using food coloring pens to draw the page edges and the purple book cover edge. Even though the gel tubes were small, I still needed to use toothpicks to get into the corners and the fine detail areas! You also cannot spread the gel around too much across any black lines or it will re-moisten the black food pen and smear black into the gel. The other drawback is the gel frostings never dry, so you cannot stack these cookies for storage or they will stick together and ruin the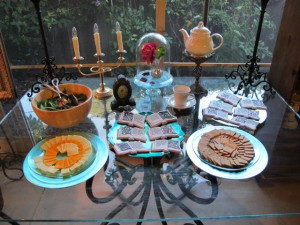 designs. However they did give a beautiful effect, enough that my friends lectured me on making edible art that is too much work so they felt too guilty eating them! 😉
I also decorated my patio table using my brass candleabra, a small clock, teacup and teapot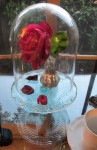 as you-know-who, a glass cloche over real red rose from my garden, that happened to drop a perfect amount of petals during the party, plus I displayed some Disney collectibles and my Disneyland photo with the Beast by the Cinema Brittahytta movie clapboard sign.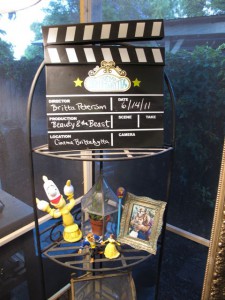 It was a fun night with a simple backyard barbeque menu, 10 adults, one kid and one dog. We had at least one viewer who had never seen the movie before, and he enjoyed it enough that we have reserved seats for opening night of the new movie version this week!
Click below to view all the photos of the party, including closeups of all six designs of the Beauty & the Beast Bookookies!