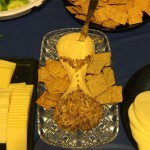 This year we were invited to a New Year's Eve housewarming potluck, so we decided to bring two forms of cheese edible art as Time for Cheese! One was a pastry brie decorated as a pocket watch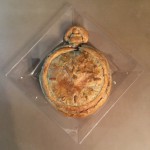 approaching midnight, and the other was Glen's family cheese ball recipe formed into an hourglass with the chopped walnuts as the sand. Easy and tasty!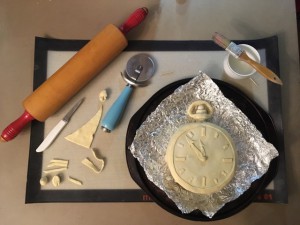 I've been making my Baked Brie En Croute in different designs for over a decade, so since I knew the pastry would puff too much while baking, I used hash marks instead of small numbers, with slightly longer lines for 3, 6, 9 & 12. This time I used milk instead of egg wash, so it wasn't as shiny, but it did brown nicely due to the protein. I had to add a couple toothpicks while baking so the winding stem wouldn't fall off the side, but it worked out pretty well even after all the detail puffed!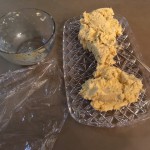 Glen's family cheese ball recipe made its first appearance at Halloween 2009 as the Jack O' Lantern Cheese Ball Creepy Cuisine winner, and it even became the Gargantula this past Halloween. After mixing and chilling the cheese ball recipe in the fridge,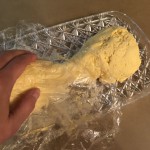 it is easy enough to form into whatever shape you like, as long as you use plastic wrap to keep it from sticking to your hands. Once the shape is set, smooth the surface with a table knife, or a clean wet finger for these types of curves, then add the chopped walnuts in the pattern you like,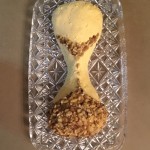 here simulating an hourglass with the sand almost running out for the end of 2016. This design fit perfectly on a rectangular platter I had, and we tucked crackers along the sides for serving at the party.
We had a great time chomping & chatting all evening, playing Rock Band 4 with friends, toasting at East Coast midnight as well as West Coast midnight, and wearing our silly giant dollar-store hats & beads! Thanks to Cyd & Mike for hosting at their new house!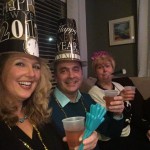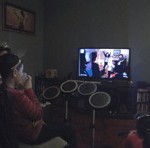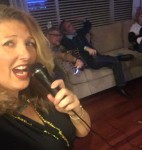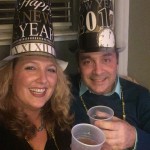 Hope everyone has a Happy New Year with Time for Cheese!