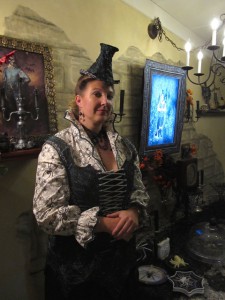 Whew…another great Halloween party this year! The rain that had been threatening all week drizzled a little in the morning and the afternoon gusts of wind made it difficult for tablecloths, but the weather stayed clear for the party as the Webmistress hosted a Victorian Halloween, with most of the special spider-themed menu as planned, many clever and gorgeous costumes, and even small children loved my Waltz of the Spiders front show and enjoyed posing with and hugging Winnifred the Giant Tree spider, even if the jumping and shaking spiders along the front walkway were a bit scary for them. 😉 I think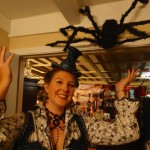 we were 58 adults and 11 kids even though I think I might be missing some of the friends of friends…but from the amount of glassware I washed immediately afterwards and rushed to pick up outside the next morning as I heard the wind and rain starting again, that seems about right! This is definitely an example of the perfect quote for me: "I am thankful for the mess to clean up after a party because it means I have been surrounded by friends." 🙂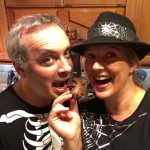 Thanks to everyone who helped me celebrate my favorite holiday!
Thursday night was opening night for our front show the Waltz of the Spiders at Castle Brittahytta even though we stayed inside working on party food. It was drizzling constantly all evening but thankfully no wind, and everything still worked fine through the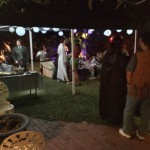 advertised showtimes as some friends & neighbors watched, but despite all our waterproofing efforts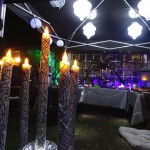 including investments in specialty outdoor boxes and taping the heck out of every exposed connection, by 11pm the front show circuit was down, and by 2:30am even the pathway electrical for all the jack o lanterns and the front webcam was down. This also meant that Glen couldn't work on the backyard party lighting that night because it wasn't safe to work with open power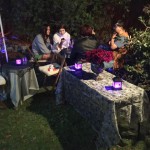 circuits in the rain. Thankfully Friday afternoon & evening was clear to get everything out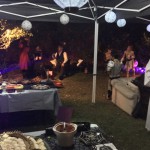 front working again by showtime, then Glen did a FANTASTIC job with the backyard lighting! He set up the purple beanbag spider with fun colors, enough lighting for playing the bean bag toss "cornhole" game to the side, and using my new paper lanterns with clamp lights and 100W CFL bulbs, under the canopies it was almost as bright as inside! We are definitely keeping that arrangement for future parties!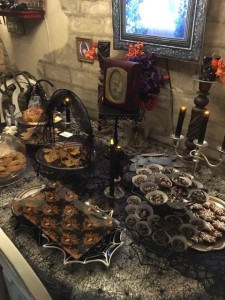 I wish I had been able to take more days off work, since by party week the only completed food were the Spiders of the Sea black rice crab cakes ready in the freezer and all the faces drawn on the Mandarin Jack O'Lanterns, but in the 3 days I did have, I finally caught up on food prep: 6 dozen hand-formed Sourdough Spiders, baked & piped 8 dozen Ginger Web Cookies, made 6 dozen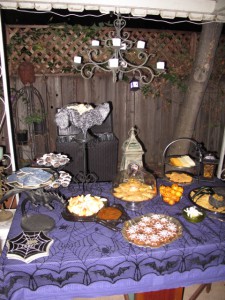 Pumpkin Pasties using the filling & pie dough I had prepped earlier, baked 7 dozen Ghoulish Gravestone cookies and Edible Medals for prizes, prepped 4 Slimy Spiders sculpted from cream cheese for green jalapeno jelly, prepped the Spiderweb Brie en Croute, and Glen and I finished his new recipe brainstorm Fal-Awful Arachnids!
I did pipe several dozen royal icing spiders and made cotton candy TWICE for Spooky Spiders in Wispy Webs after discovering my oldest cotton candy machine had finally given up the ghost after 15 years, but the seals on the spice jars were not as airtight as advertised, since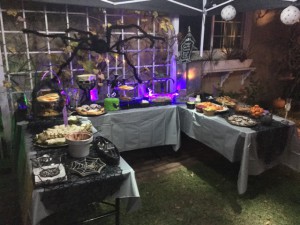 less than 24 hours all 48 bite-size butterscotch Wispy webs inside the jars had already melted from ambient air moisture. *sigh* I made more cotton candy the next day to keep in reserve in plastic bins, plus spun more webs on the bamboo picks, also saved in plastic in hopes of adding to the jars just before party time, but that recipe ended up cut for time, hoping no one noticed it was still listed on the menu board! Thank goodness I only spent free credit card points to buy the 48 spice jars. I thought I had finally solved how to serve cotton candy at a party but I was still foiled again…we'll see what I can find by 2018 when the Webmistress hosts again…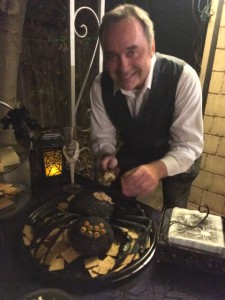 Thankfully most of the special spider menu went reasonably well, including the hilarious and tasty Gargantula Cheese Ball, and those will be exclusive to the new Creepy Cuisine recipe collection book from Eerie Elegance, hopefully on sale by summer! However, as I finished the menu chalkboard on Friday night and it almost didn't all fit, I agreed with Glen when he said "I think that's too much food!" I usually have too many ideas than I can execute and expect some to be cut for time, which is one reason I wait until the end to write the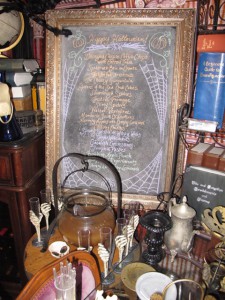 menu chalkboard, but I was as prepared as possible for the make-ahead food, and I was hopeful for the last-minute fresh food. However, as it came down to crunch time with only Glen and me this year and no house-elves arriving early, the fresh fruit & veggies never happened, and the cheese plates, cookie plates, and apple slices with caramel dip barely happened only with gracious help from Keith & Doug when they arrived first.
I did have full my costume on before 7:30pm, but as I directed the last food being set out and let Cyd set up the lab experiment bottles, I insisted on using my new lighted test tube racks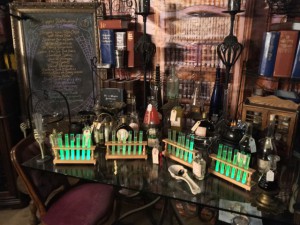 so I quickly poured green Powerade vs. green Gatorade into the test tubes, turned on the lights under the racks, and took some Ectoplasm Experiments photos! Then I finally socialized at my own party! 🙂
We were trying for Ogle the Owls and Ectoplasm Experiments as the party activities, but I knew the mix your own experiment hasn't gotten much participation since it debuted in 2005, and even though I had quiz sheets ready on the coffeetable for Ogle the Owls, I ran out of time to verify what owls were out! People partied through the entire house, enjoyed the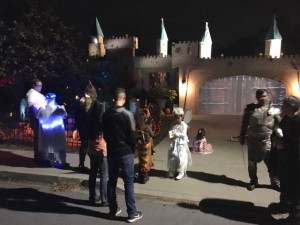 backyard couch seating areas and small food tables, played my new bean bag toss "cornhole" set, especially the kids, and roamed outside to watch the front show, then as people started trying to leave, I gathered them to the backyard to award the prizes…
We don't always have Scariest Costumes, but this year the votes went to ghostly Jacob Marley complete with heavy chains and chin bandage (Nicholas), fancy Jack the Ripper with his stylish victim (Sean/Laura), and since I didn't have a prize for Epic Hair, I gave Juanita a medal for Scariest Hair 😉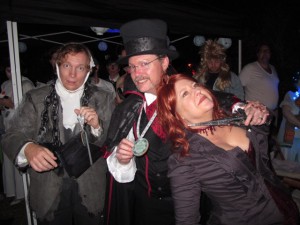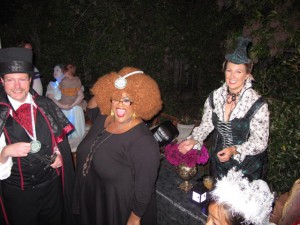 Most Creative Costume went to Melissa as a black & white photo even with gray makeup, Robin's amazing spider braids with classy corset, and adorable seasonal fairies Winter Fairy Nola & Autumn Fairy Violet. I joked with Robin that I've lost count how many times she has won Most Creative Costume! 😉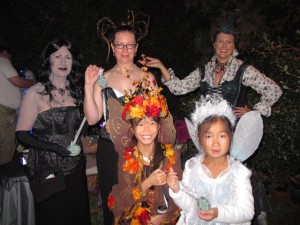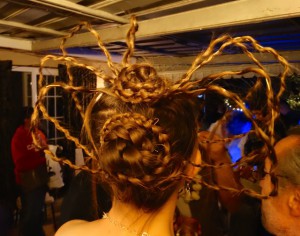 The Ultimate Costume category never disappoints! This year three groups went all out!
Star Wars Clan with Kaelyn as Padme, Karin as Leia, Ellie as Rey, Kevin as Kylo Ren, Alex as Obi Wan, and Nathania as Hana Solo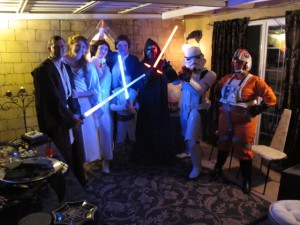 The Barbieris arrived as the Edwardian-era Downtown Abbey Clan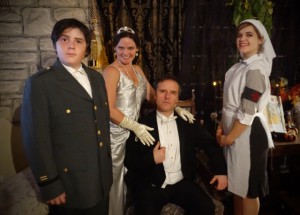 Last but not least was the Ghostbusters Family including Abby & Erin with inflatable proton packs (Annalise & Kira), clueless Kevin (Mike) and a glowing blue ghost (Angie)! I also insisted on taking a photo in the lab with the glowing Ectoplasm Experiments. 😉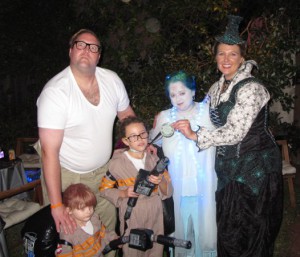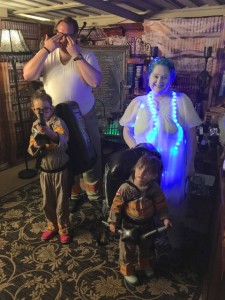 People were already leaving and I was requested to show Nola where all the owls really were, so no other prizes were awarded as a group, but I had seen some very clever Creepy Cuisine arrive, so I awarded prizes to those who hadn't left yet, and have a couple saved Edible Medals for others who won in absentia:
Creepy Cuisine awarded individually: Mari's Mum's the Word mummy pizza pockets, Sheila's Spider Deviled Eggs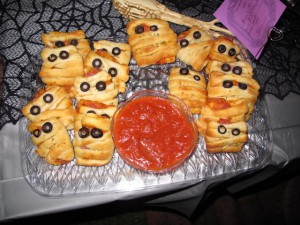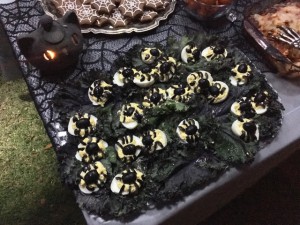 Creepy Cuisine in absentia: Robin's Vampire Donuts, Ashlyn's Beheaded Cauliflower buffalo style, Kian's Zombie Balls pizza monkey bread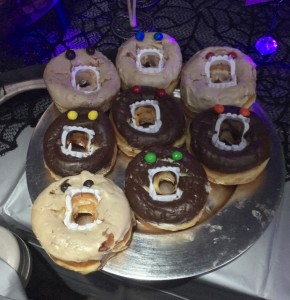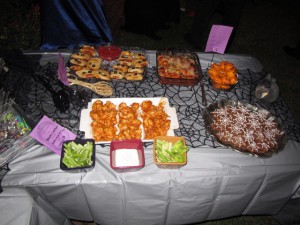 After the prizes were awarded many of the early-night crowd left as they usually do, while the late-night people stayed to chat, including lighting the gas firepit on the patio for a little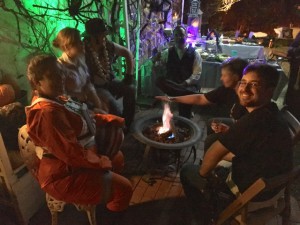 while, but I wasn't able to join them. Even my traditional overnight guests had to get home for morning commitments this year, so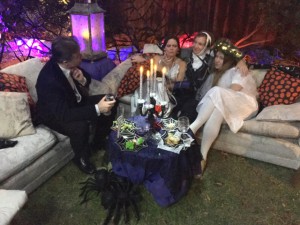 all the guests had already left by midnight, very early for my Halloween parties, and no after-party for me to sit down and relax this year! I did get a couple of Sheila's delicious deviled eggs and a couple cocktails so that was better than many past parties. 😉 I put away the food and did the worst dishes, then pooped out around 3am. It did feel much better to get 6 hours of sleep rather than get up early to make brunch for guests, and we were able to relax on our free day with morning rain. As the sun came out again, Glen took a long nap while I retaped all the power connections in advance of the next sprinkles so we could run our front show again, then we headed out to look at other local Halloween home haunts for a change, which was fun!
The full photo gallery is included below for your viewing pleasure! I was extremely lucky the past few years with fantastic professional photographer Cat as a party guest, but she moved to Texas, so I am extremely thankful this year that Tracia, Sean, Robin, and Keith took photos to add to mine! Hope everyone had a Happy Halloween!