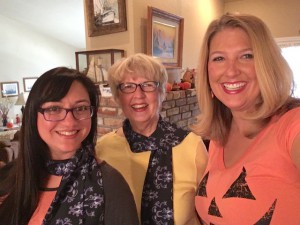 Well, really there has been Halloween fun all year, with our Spanish castle road trip in June, and a couple new party projects already finished, but for me, the Halloween season officially kicks off with Annual Halloween Shopping Weekend with my dear friend Natasha! Due to coordinating our schedules we have ranged a week or two earlier or later, but usually the last weekend of September is a good time, since most of the pop-up Halloween stores are open, and major stores have stocked their Halloween treats without them being too picked through already. This year we had a great Halloween Haul with 20 stores visited before I drove home Sunday evening…whew!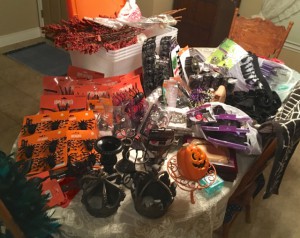 Highlights from Halloween Shopping Weekend Day 1: my Halloween Haul from 11 stores even includes more color-coded Halloween storage bins from Target. Spiderweb chain candles were stunning at JoAnn! The beaded tassel trim from Hobby Lobby was too gorgeous to resist so the spiderweb lampshade covers will be embellished! Always fantastically fun items from the 99-Cent store, including spider tongs and lots of sizes of 3D spiders!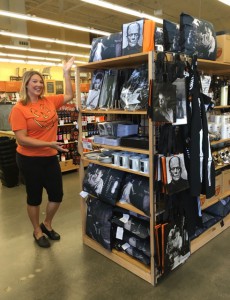 Halloween Shopping Weekend Day 2 we hit 7 stores, with the best stops at Marshall's & World Market, including great finds for Haunted Hollywood next year with 25% sale AND 10% total purchase coupon expiring that day! That's 18 stores in 1.5 days and about 15,000 steps…whew! Thanks for another fun year, Natasha!
I went to Dollar Tree after Tash left, with a special 10% customer appreciation coupon saving me another $4 on more 3D spiders, more web paper lanterns, black and dark purple roses & berry stalks, and another spider & web ice cube tray…then I didn't actually buy anything Halloween at Bel Air, but at the tail end of Annual Halloween Shopping Weekend, I was patiently waiting for my brother to finish his grocery shopping, when the staff thought my jack o'lantern tee and handknit pumpkin purse were cute enough to pose by their pumpkins and post on their Facebook page…haha I'm famous! 😉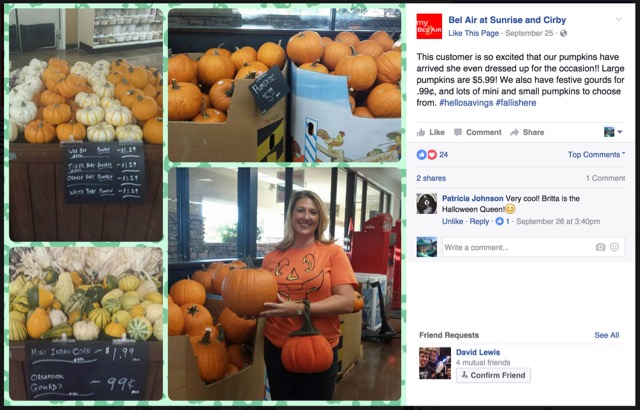 I have also been posting teasers on the Eerie Elegance Facebook page all summer, especially of smaller projects, so let's catch up on some of those here: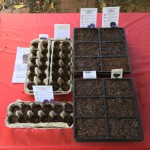 I tried starting some seeds purchased over the past few years of several black and purple flower varieties in hopes of a gothic garden for the Webmistress, but it was already summer heat, and ever after careful care multiple times a day and moving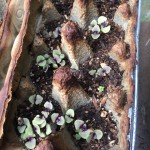 them from sun to shade so they wouldn't fry, I only had a couple sprouts, then one hot day without water killed what did sprout, so sadly that was a bust. Thankfully a local nursery lost its lease so I got this whole cart of mature perennial Ghostly Greenery for 35% off, including two purple heart-shaped sweet potato vines, two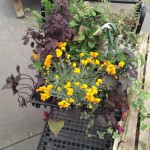 hard to find Japanese painted ferns, two gorgeous frilly purple Little Zin hibiscus, silver Hairy Canary Clover, and striking green and black Velvet Elvis! Those are still doing well split up into several pot arrangements, along with several of last year's Halloween plants that I nursed along through the year.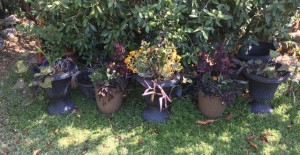 We haven't had as many full Scream Team workdays this year since Scary Jerry is doing his own party and is busy with his own projects, but we started on August 22nd when I could give them their special shirts and take a team photo! I had fun with a Disney store sale and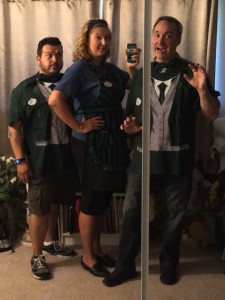 bought myself the adorable Haunted Mansion Ghost Host apron and matching Ghost Host tees for my guys! I even wore some Madame Leota hair and my teal musical Haunted Mansion shirt for the occasion! We had a fun but long & hot workday, almost finishing a new major project, since by the end of the day we had a functional garage door seamless rear projection screen, but larger storage hooks and different nails were still needed before it was completely ready for prime time! The garage screen will be fully documented in a later post when all is finished, including the projection content.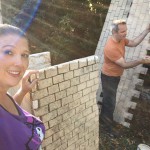 On Labor Day weekend Ghoulish Glen and I got out all the castle walls after 2 years storage above my garden sheds with leaves & blossoms mess, brushed, washed, repainted, created a replacement for a missing wall, and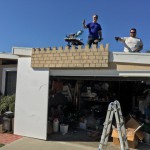 Scary Jerry helped again on Sunday, including a complete redesign of the round towers. Jerry conquered his fear of heights by going up on the roof with us! On Monday Glen & I needed more supplies so ended up having some fun shopping before we continued putting up the castle. We took advantage of Spirit's 2-day 20% off entire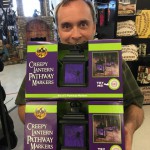 purchase coupon, and I never thought I would buy any inflatables, but Home Depot's 11ft dragon with moving wings and their 17ft pointy-legged spider in web have a lot of future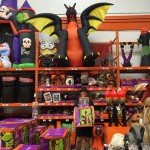 potential using some artistic painting techniques to make them more realistic!
This year's Edible Medals are a new spider design, printed onto frosting sheets, cut, and ready for baking onto cookies! I bought a bunch of thin web print ribbon on Halloween clearance last year to thread through the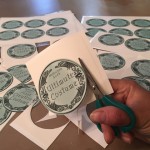 medals after they are baked later this month. I also have a stash of various ribbons to make a new elegantly Victorian style door wreath but covered in spiders. Speaking of spiders, I've been buying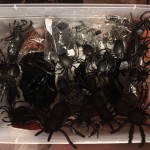 spiders for two seasons to add to my already large collection, but I'm still not sure I have enough! 😉
One of my stone walls for my screened patio had already been repaired several years ago from a giant hole rats chewed completely through it, and this year the extra rat damage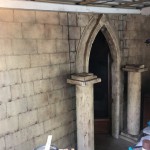 made me give up and make a new wall. Of course making the aging treatment blend with the existing archway and wall was a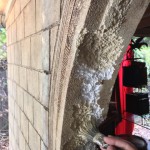 bit tricky, since those had years of blossoms and grunge naturally aging them further, but using brown and black spray paint helped a lot. I also had a lot of chewed holes inside the archway that required touch up paint and aging…but as I was carving the replacement stone wall in place to match the other pieces, there was a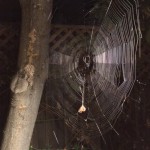 gorgeous orb web next to me on the patio…I witnessed a moth get stuck, wrapped and eaten!
I still need to replace the screen door with the archway door which will have a small new surprise of its own, but the main new feature for this area is that I have upgraded from the doggie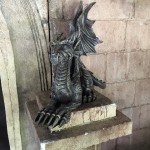 gargoyles on the entrance columns to DRAGONS! I toyed with sculpting my own dragons, but I found these dragons on sale at Design Toscano, so I splurged. They are much too long to place looking straight ahead since there is always too much traffic near the columns, but I like them facing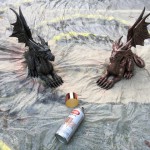 inward, evaluating everyone entering through the doorway. First I traced around the dragons and cut recessed areas from the foam top of the column so the dragon would stay in place. I got a pretty good fit, and even in some strong breezes they haven't fallen yet. The dragons are solid resin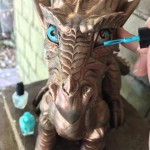 already painted gray with darker shading, but they are too intricate to look like stone even if I painted them to match the walls. However, since copper is a theme for the Verdigris clan, I bought a can of metallic copper spray paint,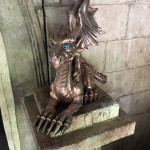 carefully gave the dragons a light dusting, and it preserved the shading but gave them a spectacular sheen! I wanted to make the eyes pop, so I used aqua and opalescent nail polish like I did with the other Verdigris dragons for Halloween 2012. The final effect is definitely an improvement, and not something we could buy ready-made!
Hope your Halloween season is going well! You can see a few more of our photos by clicking into the gallery below. We have a million projects underway as usual that make more sense to post as separate projects, so stay tuned for the new well illusion, the garage rear projection screen, Castle Brittahytta 4.0, and hopefully even more new surprises!