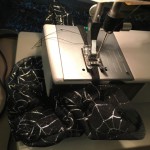 Even though getting the outside front show ready has been consuming the majority of my time until now, I've been able to crank through several small projects to add to my Victorian Halloween atmosphere, including elegant silver and black cat collars, custom pumpkin vines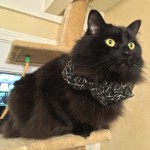 for the graveyard, candle "costumes" and spider jewelry for servingware, candlesticks, and even for the Webmistress to wear herself!
My kitties don't let me put costumes on them, but they will wear soft collars that stay out of their way. For my first black cat Kylie I found collars on sale at pet stores that were fun, but now since I have three black cats, I'd rather have them match, so I make them myself. The past few years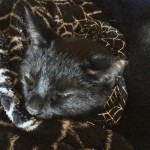 they've had a fun orange pumpkin and black cat pattern, but this year I found some very cool black mesh fabric with silver printed web pattern. Not only did I make myself a scarf just by cutting it (no hem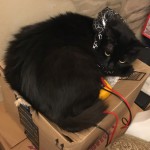 required!), but I made kitty collars AND a hair scrunchie for myself. The fabric is very soft and it looks fantastic on my kitties!
Later in September as we were cutting other projects for time, I thought I could add in some homemade pumpkin vines so I could use my papier-mache pumpkins around the graveyard.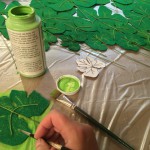 Just sitting in the graveyard didn't make sense, but vines emerging from the grave of The Pumpkin Queen would be perfect! I've grown my own pumpkins several times, but fake vines I could put anywhere I wanted for future years to come. Before I drew my own leaf patterns, I did a quick online search and found several, so I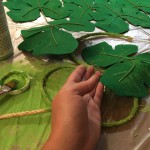 printed those as large as my paper would allow plus smaller sizes, cut out the templates, then traced around them onto scrap green felt I had in my fabric stash. I was cutting leaves forEVER, then I needed to glue green fabric-covered floral wire to them! All but the smallest leaves needed a curved crosspiece plus the long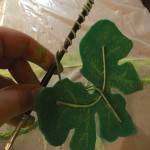 stem, and I left the stems plenty long, since I poked the wire through the sisal rope I was using as the vines, then I could curl the other end of the wire around a brush handle to make the curled baby vines. I also painted the leaf veins the same lighter green as the rope, which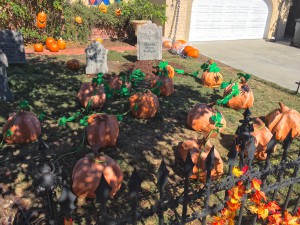 was very close to the wire color, but since the green felt was so vivid, I also dry brushed the lighter green over the entire leaf. They're still too bright in the graveyard during daylight, but at night with the orange & color-changing lights, they look ok. I was only able to make three vines from the pumpkin leaves I cut, so I think every year we use these pumpkins, I'll make another couple vines. Handstitching around the wire would make them rain-safe, and some fabric stiffener might make them even more realistic since they're pretty floppy right now.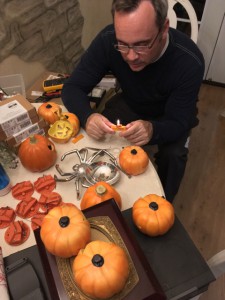 That's not the only late brainstorm about pumpkins! We only have the single ghost in the tallest tower this year for story reasons, so that leaves the roof a bit boring and the other castle windows empty. I have 15 small battery jack o'lanterns, so I thought why not put them along the top of the castle walls and in the windows as forced perspective making the castle look taller? Six of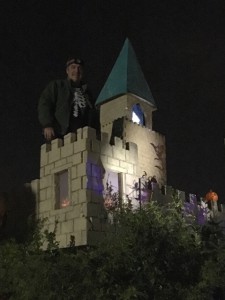 the baby jackos were super-cheap dollar store purchases so long ago that they were blinking incandescent, not even LEDs, one was another incandescent found at Goodwill this year, then the other eight were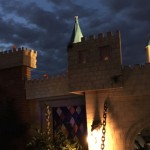 from Target's collection the past few years (but sadly Target had no jackos this year of any size!). We could have set them as-is, but that would require turning all the batteries on & off every night on the roof…so since we still had extra flicker LED pigtails already wired from our Halloween 2015 soldering party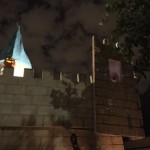 , I asked my resident electrical engineer to wire all the baby jackos to the roof power circuit. It took him a few days but they are now all wired together AND they all flicker brightly enough to see the faces through the gray sheet windows! I absolutely LOVE these!!!
The Webmistress is hosting a Victorian Halloween at Castle Brittahytta this year, so she deserves some new accessories. I've been drooling over the Victorian Trading Company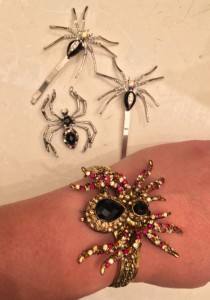 catalog for years, so I finally splurged on this gorgeous spider jewelry and more using a free shipping offer! A pair of spider hair pins that are much larger than I expected, which is great since they should be noticed! The brooch has a couple colors I didn't expect, and the bracelet is very large and more gold tones than expected, especially since the Webmistress' color theme is black and silver.
Back in August I was browsing Etsy for a masculine swan pin for the Victorian family father to wear (separate post later, sorry!), and I came across a fabulous silver pocket watch with a giant spider on top! It would be even better on the other web case design, so I messaged the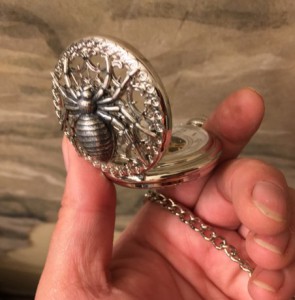 shop to ask. He was fine making it for me, but when I was ready to order a couple days later, his Etsy shop was down…ack! I was able to contact him, and he was just setting up a new shopify store, so I was his first shopify customer via PayPal. My items arrived last week and I absolutely LOVE them!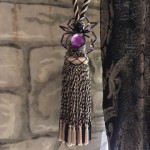 Since I knew chances to use fancy spiders were coming, the past few years I've been buying interesting items, even if I didn't have a concrete plan how to use them…like these "crystal" spiders I've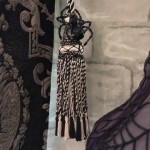 seen at several stores, even including Dollar Tree this year. I ended up with 4 that didn't match, but I have four tassels for my Halloween curtains in the living room, so I thought the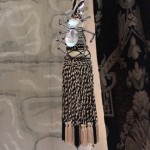 crystal spiders could easily dress up those! I just bent the front legs to hook around the top of the tassel and they've stayed all month! This is probably a detail others might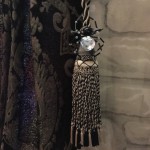 not notice, but I know it's there. 🙂
Last Halloween I found a black square tier tray at a discount store that was missing a couple beaded drops, but obviously had potential to add my own spider bling! I also found a black beaded silver candlestick at a thriftstore half-off sale that was also screaming for spiders!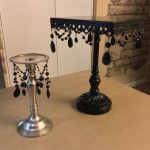 Before Halloween Shopping Weekend I was able to quickly add some spider bling to some thriftstore items to make them more the Webmistress' Victorian style. It's a much faster project by already having silver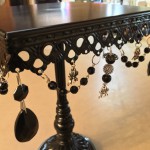 spider charms, beading wire, and a bevy of beads in my crafting stash! Now I need more silver spider charms so some are coming from China via Amazon free points, but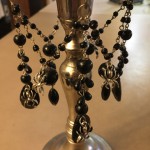 arriving probably too late for me this year, so stay tuned for more spider bling when the Webmistress' party returns in 2018… 😉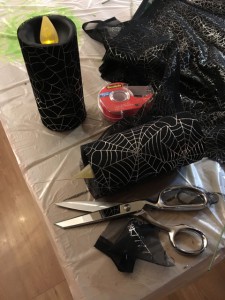 Speaking of candles, I had converted four pillar LED flicker pillar candles to sit over the spiked sconces years ago, but they are just plain black. I took the same silver web mesh fabric I used for my new kitty collars and taped it around the black pillar candles to make them extra fancy. This makes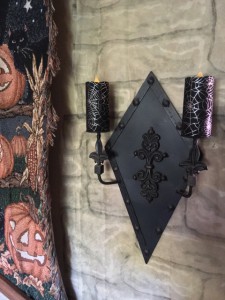 them stand out even more, since the black candles against the dark iron finish of the metal sconces blended in a bit. I used the same removable poster tape that I use to attach my flagstone gossamer to my painted inside walls, so I can remove the web fabric and have plain black candles again for future Halloweens if I have a theme where the web design won't fit.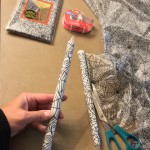 I was gifted a couple gorgeous carved black gothic candelabras, but putting my black candles in them all blended too much together. I found long white taper LED flicker candles at Dollar Tree, but that same black mesh fabric didn't work on white candles. However, a cheap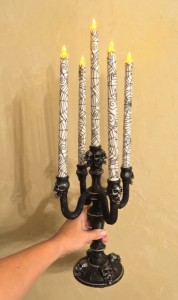 translucent web pattern tablecloth was absolutely perfect! Now not only are these candles "costumed" much more in the Webmistress' style, but I can remove the tape and have white candles again for other occasions!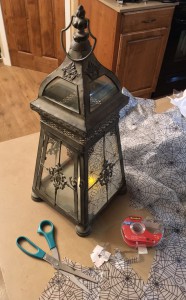 I have several candle lanterns of various sizes, and I had a different plan for them but am running out of time (maybe for 2018?), so I used the same cheap web tablecloth (seriously, I'm still cutting up ONE tablecloth for all these projects so far!) to line the windows of this lantern using clear removable poster tape. It's just the right opacity for the flicker LED tealight to glow without showing the fake candle inside…perfect!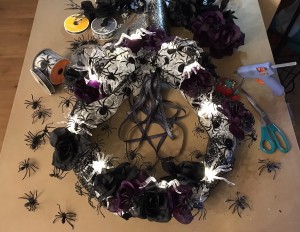 I really wanted a fancy spider front door wreath with as much Victorian style as possible, so I bought a bunch of ribbon on clearance from Michaels last year. I also splurged on the albino spider battery light string from Pottery Barn since I expected so much of the wreath would be black so you would have trouble seeing black spiders. I wanted to make this early in the summer, but everything got too busy, so I didn't start it until 4 days before my party…ack! The large sheer silver net ribbon was wrapped with a black layer to show the pattern, so I had to spray the pressed white foam wreath form before I covered with the silver web ribbon. I used a whole roll of the white spider wired ribbon to make a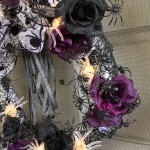 large triple bow wrapped around, plus some thin stripy black & silver looped several times to hang in the middle. Some black and dark purple roses from Dollar Tree added some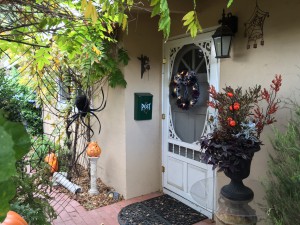 Victorian flavor, then I arranged the albino spider lights before hotgluing almost an entire sandwich bag of bulk plastic spiders! It looks perfect on my front porch between the giant shaking spider in its huge web, web doormat, spiderweb wind chimes, and my black urn floral arrangement. I think this spider wreath might be the definition of Eerie Elegance! 🙂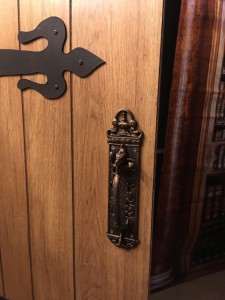 My patio archway door that has been in service about a decade now finally got an update! When I splurged on the dragons for the columns, I also found these brass dragon door handles cast from some original in Europe, but they don't have latches so I coudln't use them anywhere else in my house…but they fit perfectly on the archway door! I expect this may be another detail others may not notice, but I really like expanding the dragon theme. 🙂
Back when the sheer purple with web-flocked fabric was available, I bought enough for matching living room curtain panels, pillow covers, a drape for the piano, front door moon window panel, a tiny lampshade cover for the little lamp above my patio fridge, and a big lampshade cover for my floor lamp in the living room. I had another lampshade I covered with Eerie Elegance Beware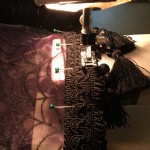 the Brocade but thought I should have all matching webs this year. However, I only have tiny scraps left and haven't seen that sheer purple web fabric for sale in several years now…but I scrounged through my fabric stash, and I had just barely enough of my original sheer black web lace from the original Webmistress costume from 1999 to piece together a new lampshade cover for the Library Laboratory floor lamp! When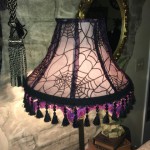 the light is shining through, you can't really tell the difference between the purple and the black anyway, so they fit together just fine. All this work was inspired because during Halloween Shopping Weekend this year I found a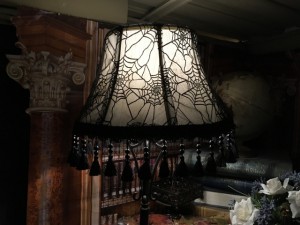 FABULOUS black fringe trim that I could not resist, so there was $50 AFTER coupon, but now I have extra opulent Victorian web lampshades now, worthy of this Webmistress! One even has double layers of purple and black fringe, which I didn't expect to like, but I think it fits as over-the-top Victorian.
No time left for any more updates since my party is Saturday and I'm taking the next three days as vacation from work! My costume is ready, and the front show is all set with over 10,000 spiders crawling all over the castle and graveyard, but there is still a lot of food to make! Hope everyone enjoys their Halloween weekend and I'll be back with more updates after it's all over!