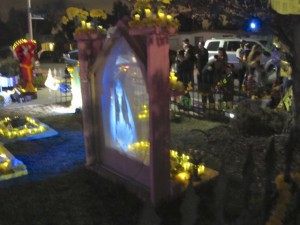 Having my annual party the full week before Halloween night gave us FOUR nights to show our show to the public! We could only do last-minute publicity because we were still working on the show not even 7 days before the first public night, and we didn't get paper flyers made until too late, but a quick promotion webpage helped, plus a sign out front so neighbors or drive-bys would know which nights to come back. Friends and neighbors spreading the word on Facebook and Next Door brought in a decent audience for all four nights, ending with Day of the Dead on Sunday November 1st. Some people told us they drove from Half Moon Bay and even Roseville just to see the show!
It was really fantastic to hear complete strangers enjoy our show so much, especially after all our hard work this year! One of my favorite comments was from a woman who said all the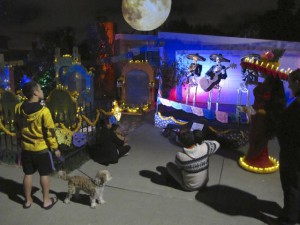 graveyard decorations were perfectly authentic from her home in the Oaxaca area, and that even the music we chose and our stories reminded her of the tall tales the grandfathers would tell the kids! She said it all reminded her of home, and she loved it so much she brought friends the next night! Another man on Halloween night had similar compliments how beautiful the graveyard was and so like his memories of home, and he insisted on a photo with me as La Muerte. Those were really touching to hear, especially because I wanted so badly to honor the beautiful authentic traditions and do them justice.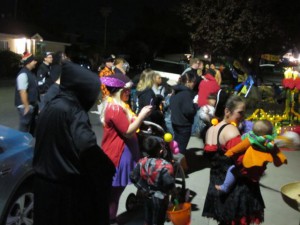 I did get the webcams working, one pointed at the audience and the other watching the show and driveway audience, but since they don't have audio, I'm not sure anyone was watching. I do have screen captures so someday I might have the chance to sort and maybe make a time-lapse video, but there are always other projects clamoring for my time! 😉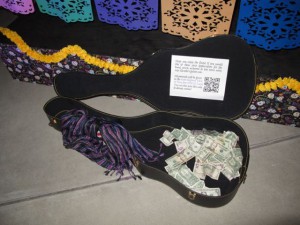 Our grand total for UNICEF from the guitar case donations was $219.84, and here is our UNICEF certificate for our donation! Thanks to everyone who donated!
Now the problem for 2016 is that my party will only be 2 days before Halloween night, so not as much time for public shows…let alone how will we ever be able to top this one? 😉
Click to see the full photo gallery from all four nights!