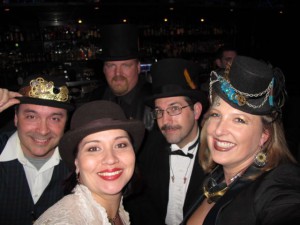 Another quick detour away from Halloween party updates, since I was able to attend the Abney Park concert with Vernian Process and Jolligood Unlimited up in San Francisco at DNA Lounge, so we dressed steampunk again for fun!
Nathania & Kevin have seen Abney Park before, and they have a variety of outfits to choose from so of course they looked great! Glen was a good sport & looked quite dapper wearing his Halloween costume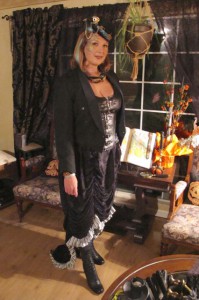 again with the Photo Chapeau. I just got a new black buckly faux-leather corset for cheap, so I wanted to wear that for a change instead of all my steampunk browns and golds. I wore the black velvet draped Victorian Webmistress skirt with aqua & white striped ruffled hem, my black granny boots, and my black tuxedo jacket, with my brass goggles around my neck, but since the hem had aqua and I wore my dark teal lace stockings, I wore my ice aqua hair stripe, and I added as much color as I could to my hat to be less goth and more steampunk.
I started with the plain black top hat fascinator I bought in Vegas but turned it backwards so the flower and ribbon was in back. I scavenged through all the jewelry bits I have saved forever and found a turquoise metal barrette from the 1980s that I could clip to the hatband to add a punch of color. I had a couple chunky broken chains I had saved for probably over 30 years too, so I draped those artistically around the barrette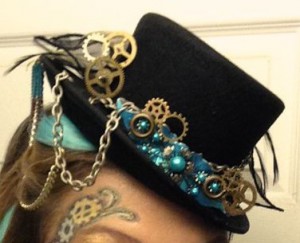 and over the edge reminiscent of a blusher veil. The gears were unsurprisingly leftover from Halloween. I threw it all together the night before the show using pins, a couple hand stitches, and hot glue so it can all be removed. I also converted old screw back hoop earrings also from the ancient jewerly bits and added the clock faces and gears from the Halloween steampunk stash. See, saving things forever that other people think is junk sometimes works out!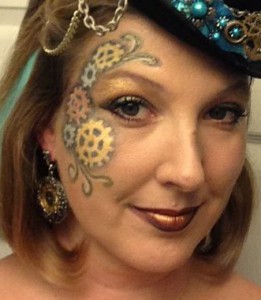 When I was asking Nathania what she planned to wear, she mentioned maybe some steampunk makeup…I never even knew that was a thing! I googled "steampunk makeup" for inspiration and saw a billion different designs, then started drawing gears on my face with white eyeliner pencil, outlined the gears with black eyeliner pencil, filled over the white with metallic eyeshadow applied with fine brushes, wetting the brush if the metallics were too dry, then some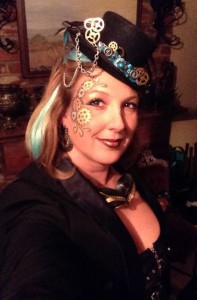 black powder eyeshadow with a very fine dry brush for extra shading around everything. I used the same metallic eyeshadows on my eyes, with gold for brow highlights, copper for the crease, and some silver for the lash line, then smokey black at the corners. I had seen some dramatic metallic lips online, so I tried that myself, lining with black eyeliner pencil first, fading it with my fingers, adding my brick red lipstick, then copper powder over all, then tapped gold powder with my finger just for highlights. I thought it looked quite elegant without being too kitschy, and I got many compliments at the concert. 🙂
The concert was loud since it was a small venue, but we enjoyed the music and we met some other steampunk fans. Jolligood Unlimited was a lot of fun, with a Seussian frontman drummer – have you ever seen two drummers with full kits in a 4-person band? 😉 It was awesome when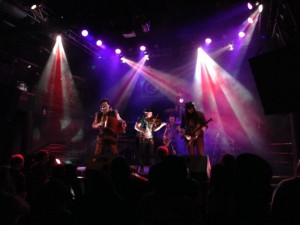 they brought their zydeco jam down to the dance floor! Abney Park definitely puts on a fantastic show, love the accordion and violin added to guitar, bass & keyboards, and frontman Captain Robert is a really nice guy in person. So glad we were able to go, but I hope next time it's a larger venue like when I saw Vernian Process at the 2011 steampunk convention, or I bring some earplugs. 😉 More photos below if you'd like to see!