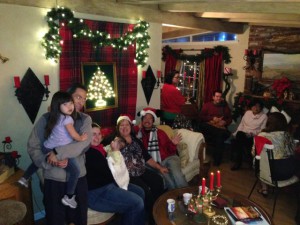 My Holiday Happy Hour was the first week of December this year. So many years it's been too warm inside for my holiday party even to light candles, let alone turn on the furnace, but this year's chill more than made up for it! The mulled wine and hot cider were scarfed, and good thing it was just under 30 of us since the patio bar was too cold to stay out there for very long, even with candles and space heater going! Cozy cookie decorating and chatting inside was a nice evening, with a bonus that the outside "snow" surprise showed through the windows inside too, especially the triangle window above the piano showing the moving blue glow looking like real snow falling!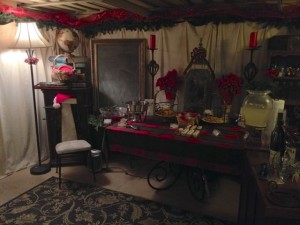 This year my Christmas decorating was a bit different because I had implantable contact lens surgery the week before Thanksgiving and was told not to lift anything or bend over while I healed! My party was scheduled only 6 days after my family Thanksgiving trip, which didn't leave much time for baking or decorating, so since my mom was staying with me to help out when I was healing, she got out all my Christmas boxes and we decorated my house together, hanging all my garlands, and even putting up my outside lights just not turning them on. That was fun while I was attempting to be a patient patient (I'm not very good at patience or taking it easy!), and she got inspiration how to organize her Christmas decor better for storage. 🙂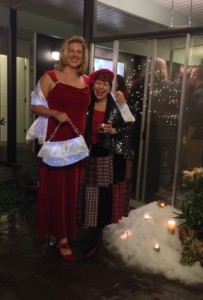 Since my party was on Sunday, I was able to attend Sheila's snow party the night before hosting my own! Every 2 years, Sheila buys snow that is delivered to her house, and her husband arranges it on their front porch and their courtyard. I wore my long red velvet dress since it gave me the chance to wear my fiber-optic shawl and purse again…don't you think the fabric sparkles echo the real snow on the ground? 🙂
Let's start with outside decor because of my new surprise! I bought dripping LED icicle lights last year, so that was all set already. Since I had the whole-house projector, custom wooden projector box, and lighted present boxes already made for Halloween, I thought it would be fun to project snow falling on my house. With one good eye & my mom's two eyes, we tested if the projector would send a focused image through the clear acrylic, and it was fine. What I didn't consider was the projector not having enough ventilation, even with near-freezing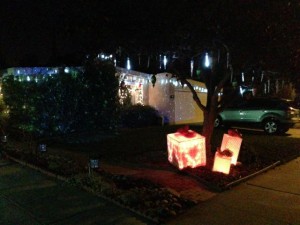 temperatures, causing the projector to shut down from heat after about 15 minutes. Finally after cracking the present box lid open a hair near the projector vent and propping the acrylic side away from getting sucked into the vent, it stayed working for the rest of the night in the chilly air. (Click the photo to see video!)
The snow looked much better in person since many people said the different size flakes and the different depths of foliage at first tricked them into thinking it was really falling from above somehow! The movement of the dripping LED icicles worked perfectly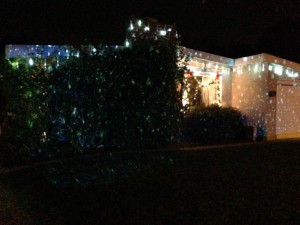 with the falling snow. (Click the photo to see video!) Luckily this free snow video loop I found online was just the effect I wanted. The only thing I would improve for my situation would be for the background to be entirely black instead of the fade to blue at the bottom, since that shone too much light on my grass and slightly marred the illusion. I was so happy to have such a great reaction from all my guests. Several kids wanted to run into the grass to try to catch snowflakes! I would love to have real snow like Sheila's party, but this is the best kind of snow, with no messy cleanup!
The rest of my decorations and menu were mostly the same, with the indoors cookie decorating table a hit yet again, so this will definitely remain a tradition as long as kids keep attending! My traditional menu of Scandinavian family recipes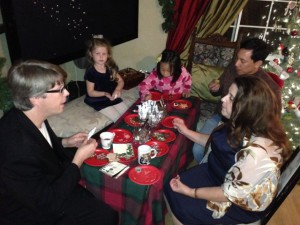 were all there, like krumkake, pepperkakor, fudge, toffee, pickled salmon, and Swedish meatballs, plus cranberry chicken, build a sandwich, cheese & crackers, manchego with quince preserves from my tree & a snowflake pastry brie with spiced loquat preserves also from my own harvest. The beverages were sparkling cranberry punch and hot cider plus mulled wine and full bar for cocktails. I only made 5 dozen krumkake instead of 10 dozen, and I knew I wouldn't have time to do the snowflake cookies justice this year, but I did make my Caroling Cookies again to match my caroling luminaria bags on the tables.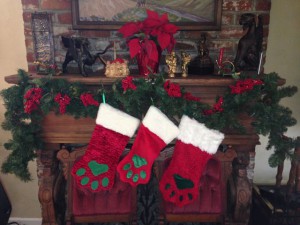 I did finally get a third paw stocking for my third kitty, but I had to make one! Since I could only find super-fuzzy red material, I decided that now the stockings match each kitty by fuzziness level: middle fluff for Ebony, smoothest plush for sleek Obsidian, and super-fuzzy for super-fluffy Onyx. 🙂 Unsurprisingly, Onyx held court the whole party and had a great time. I even heard someone say "Onyx thinks he's king of the party!" as they saw him draped across one of the dining chairs where he could see everyone! Ebony & Siddy stayed hidden until it was just Cyd and me chatting after others had left…then Ebony was sneaking manchego off the table while Siddy was finally allowing Cyd to give him tummy rubs for the first time. 🙂
I hope everyone had a happy holiday season! Click below to view all the photos of the 2013 Holiday Happy Hour…