Boy is it crunch time! This was the last Halloween Scream Team work weekend before the party! It's definitely a marathon this year going into the last push this week, so we're trying to make sure we all get enough rest so we can make it to the finish healthy enough to enjoy it!
One thing I haven't mentioned yet here is that to celebrate my Twenty Halloweens, I'm collecting for Trick or Treat for UNICEF, in cash at my party and trick or treaters Halloween night, but also via PayPal if you'd like to help celebrate! I will take everything collected by November 5th and send the total to UNICEF. I hope we can be festive for a great cause, since UNICEF's Trick or Treat program has been running since 1950, and the U.S. Fund for UNICEF spends 90.4 cents of every dollar they receive on programs that help children. Only 6.7 cents goes to fundraising, and 2.9 cents to administration. So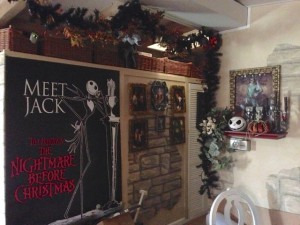 many other charities have so much money go to marketing and administration, but UNICEF sends most to the children who need help.
I have taken my Nightmare Before Christmas collectibles (except shirts, pajamas & slippers!) and distributed them around the house on shelves, bookcases and things, so that should be fun for people to discover during the party. Here you can see the only spot large enough to hang my giant bus poster from the original movie release is covering my hall closet doors! You can also see some of the black pine garland with extra fun decor over the archway.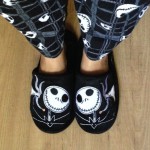 Speaking of slippers, I bought these probably 10 years ago at Disneyland, but have been saving them in my closet so I wouldn't ruin them. I decided that wearing them these couple weeks they should survive, and it's the perfect time to enjoy them. Nice that it's finally cool enough at nights to enjoy my flannel Jack pajamas too. 🙂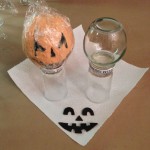 All the food I can do in advance is done until I start gelatin body parts on Thursday evening so I can paint them late Friday. The Brie en croute and other cheeses will be tackled on Friday, and fresh fruit and veggies aren't until the day of the party.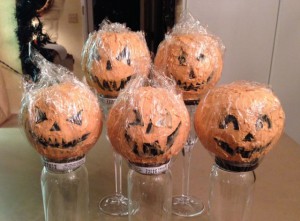 I've taken a previous winning Creepy Cuisine entry and turned it into small Glowing Jack O'Lantern Cheese Balls to surround the gingerbread village and make all the food tables festive. The Creepy Cuisine winner used hard cheese for the face inserts so it would be thick enough for a wide cheese wall before the glass. The cheese has a tendency to crack for more intricate designs, so I decided to try using some of the fun foam scraps, washed thoroughly first of course. The foam is thin, so you can't have as thick of a cheese wall, but I compensated by adding extra cheese to the sides and back. After the cheese has set solid in the fridge, you need to scrape any cheese edges away from over the foam and peel carefully, but it works great! Using the same technique over a larger glass bowl (that first needs to be baking support for Dr F's lab building), I will make a big plain cream cheese glowing Jack Skellington head that will be in his laboratory. 🙂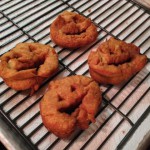 Thanks to Scary Jerry manning the deep fryer while I prepped them, we blasted through 9 dozen Donut be Scared Peekaboo Pumpkins on Friday night so they're in the freezer for reheating day of the party. However if you get too much flour in the folds when re-rolling the dough, your pumpkins can explode like these! Nice to have snacks for all three of us, especially while smelling them the whole time we were making them!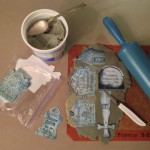 The new Tasty Tombstones & Edible Medals are baked, also using the plastic trophies with updated labels. One new quiz sheet is ready to print, with Haunted Headstones and Ogle the Owls, plus a secret extra bonus question. 😉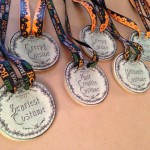 This year's Spooky Music Quiz is all ready to go, including clips that include what number they are so I don't have to yell. Why didn't I think of that before?!? The AirPlay Remote app is working with my master iTunes on my MacMini and whole house speakers, so I can control volume, stop & start playlists on my iPhone, and I even added conductive thread to a couple fingers on my Sally gloves so I can use the touchscreen in costume! This means I can run the quiz from the backyard where there is more space, and everyone can play anywhere in the house or yard, as long as there is enough light to see the quiz sheets. 😉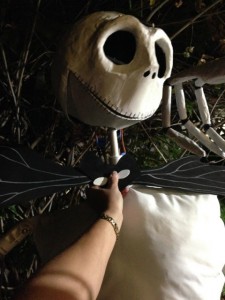 My third webcam arrived on Friday, and I got it working on my internal LAN by IP + port, but can't get the Mac Mini server to allow connections through it using DNS so it's not reachable from outside yet. If I can't figure that out this week, at least it can be image captures during the party showing Sally's Potions and a bit of the backyard tables and chairs. Whatever is working by then will be live during the party at camera.britta.com, but fair warning my Comcast internet service has been nigh unusable many evenings this week, so I can't guarantee they will be accessible during the party…sorry!
Jack's clothes are well underway and looking quite dapper! We need the clothes to be removable for the last few days, so the plan
is all seams to velcro in back. I've made a big white pillow as his torso, stuffed with 16 years of batting remnants after making baby blankets for friends, cut the arms and legs as long rectangles so they can be pinstriped before sewing, then fitted his jacket with tails to the torso pillow. I need to find a button in my stash, and only the arms have been pinstriped by Jerry so far since the paint pens were running out so I have a lot more painting to do, but the jacket is completely sewn except the arms, including interfacing on his squiggly coattails so you can actually see their shape hanging behind him.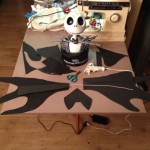 I am loving Jack's batwing bowtie. For the costume version, I used black fabric and wire, but after using the fun foam for all the graveyard fence spikes, I thought that might work better to support itself. It still needed wire reinforcement from the back side, so I hotglued some stiff electrical wire from my stash between a scrap foam layer, but this looks awesome on him!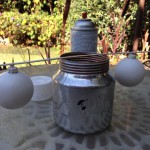 I had sewed most of the snake last month, but due to other projects I didn't get to sew the head until Saturday, then I dye both sections yellow but alas it wasn't the bright yellow-gold I wanted. I couldn't find matching balls the right size, so I sacrificed 2 of my gold shatterproof Christmas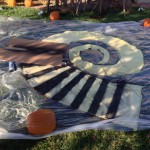 ornaments and painted them white. Sunday afternoon I spray-painted black stripes using scrap cardboard as masking along the way, then filled between with a brighter yellow spray paint. Jerry stuffed the entire snake with all the bubble wrap, packing peanuts, and newspaper I had, not an easy task since the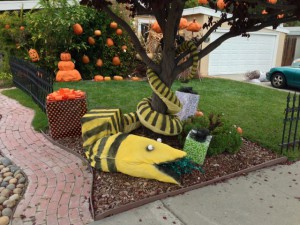 tail is sooo long! This is almost exactly what my vision was, how he curls around the tree perfectly, he is already digesting one of the presents, and has almost finished chomping a whole tree!
The lighted present boxes had also been started a couple months ago, but finally finished this weekend. I had cut acrylic sheets & clear corner protectors to the right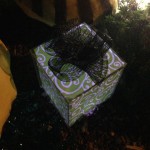 sizes a while ago, and prepped interfacing to diffuse the lights inside. There was enough wrapping paper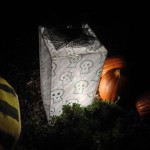 left that looked good so I only drew one design from scratch. The black bows are large mesh ribbon doubled over, and the orange bow on the biggest present is all fun foam so it will keep it's shape. I really love all the color variety out front! Snakey needs a spotlight, and I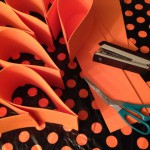 need a smaller light for the tall skinny present since I like the soft glow of the small green one better, so I'll be shopping for more lights tonight. Glad I have a couple more evenings to try out more lighting design!
Patio decorating has begun but still has a way to go. I have rearranged the couch and table for Sally's Potions in Dr. Finkelstein's lab on the outer patio, but that table still has a couple final projects in process before it can become food display for the gelatin body parts and other classic "experiments." Jerry decorated my other tree on Sunday, and it looks great with its natural orange needles! I switched the skull fountain into a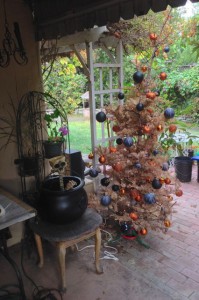 new watertight cauldron so no leaks this year. The bar area is well underway turning into Jack's Library Laboratory, with a new Laboratory Libations sheet to mix your own experiment, but the Christmas experiments in process still need to be set out along with the potion bottles, glassware, and there are a bunch of Halloween storage boxes still out there for now.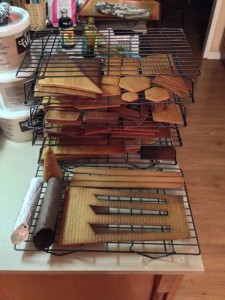 Last night I started baking the gingerbread Halloween Town in hopes I'm done by Friday, since there is other food prep starting Thursday night! I'm a few hours behind since the dough was fighting me until I figured out to only make a quarter of a batch so I could roll while still hot. I'm trying to embed textures in the gingerbread so I can paint instead of icing everything, but that is only working intermittently. My structural gingerbread recipe includes soda which makes it puff, so tonight I'll try a batch with no leavening at all to see if the textures stay better during baking. We did get the tablecloths under the foam base Sunday night since I don't plan on moving the base after decorating it all. I hope to put all the final decorating touches on the rest of my house during the downtime during baking or waiting for pieces to dry or set, and have Halloween Town fully photographed so we can demolish and consume it before people leave the party!
I wish I could have taken the whole week off work, but I am taking Wednesday through the rest of the week off. All that "extra" time will be finishing the gingerbread I'm sure! There are still some major secret projects underway we're hoping will make it in time, so Ghoulish Glen will still be working on those every night this week!
See you after the party…woohoo!