Part of my Halloween 2013 celebration plans include showing the past twenty years of party photos and videos in the background, which includes going back into the dark ages for the two Halloween parties I had before the original Britta Blvd began in 1996. There aren't many photos, one thing I learned over the years was to document everything better, but here's what I do have. You can see they are very humble beginnings – hey,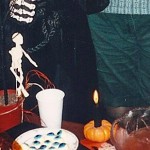 everyone has to start somewhere! – but the Eerie Eyeballs are there on the 1994 table along with the bleeding Haunted Human Heart!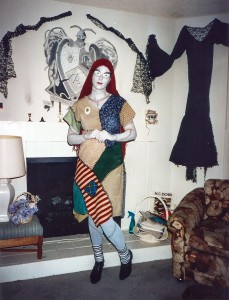 This was my first apartment after college, and I was on a very small budget from the insurance job I could find during that 1990s recession. I had made the Addams Family crest by handpainting cardboard in my tiny college dorm room for the movie promo in 1993, so I used that plus my Morticia costume on the walls as decor, along with some spooky movie posters. That was the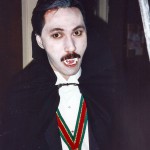 year with competitive apple carving since pumpkins were too big and expensive for me to provide, and we had plenty of fun costumes, including my original Sally, and I sewed the high-collar red-lined vampire cape and sash for my roommate Jeff, who wore his choir tuxedo for the rest of his costume.
Click here for the full page for Halloween 1994
Halloween 1995 was a much smaller party since that year my friend Tracia & I both had parties back-to-back, so we mostly chatted, played with the ancient camcorder and drank all night like you might expect of young twenty-somethings. This is when I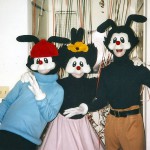 slaved over three full costumes turning us into the Animaniacs cartoon characters, but we got out of costume to be comfy pretty early in the evening. However that was when I added black tablecloths stapled to the walls, even though not full coverage due to expense, and my roommate Noah & I found fallen willow tree branches for attempts at more atmosphere. Noah bought a bunch of black & red candles and worked hard at melting them artistically into a big pile on a wooden board, which did look really cool. We were all MST3K fans, so I cut movie theatre seats with a ghost, witch & skeleton in the style of Joel and the Bots out of black paper and taped it across the bottom of my TV. I had black cardboard coffins to serve chips, and you can even spot my first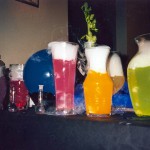 plastic cauldron that I still have today! This was the first black light mad scientist display, and also when we tested how the non-toxic fluorescent poster paints tasted when mixed with vodka and soda. There was so little paint in the solution that we had no adverse affects as expected, but it tasted very chalky so I do not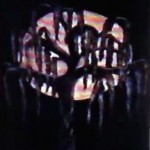 recommend it. It sure looked fun though! You might as well just use tonic water for the same effect with a solution that is intended to be ingested. 😉 I had traveled to New Orleans with my grandmother that fall, so I was inspired to draw a Scary Tree draped in Spanish moss in front of a full moon using sidewalk chalk on black butcher paper…which I still have and will hang this year in the hallway gallery in honor of my Twenty Halloweens. 🙂
Click here for the full page for Halloween 1995
Looking back at these now I am almost embarrassed, but they do prove a point I have made in both Eerie Elegance books and always tell people when they are amazed at what I do these days: Even starting small, you can build your Halloween collection over time, and two decades later, maybe you could be hosting extravaganzas like I do now!