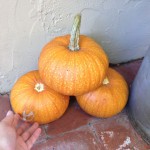 It's been a very busy summer, working on Halloween between Cinema Brittahytta movie nights, and visiting my grandmother in Seattle, but now it's back to all Halloween until November 1st!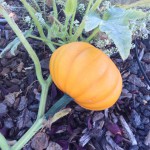 Since my last update, I have harvested the 3 sugar pie pumpkins since they were already falling off the stems, and since they already started getting soft, I quickly roasted them and froze the puree so I could use them in my Halloween baking. I saved all the seeds to plant next year, since that was a good hardy crop! However the Dill's Atlantic Giants must not like my yard or conditions, since about 6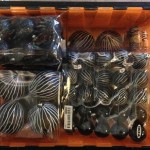 have set and grown to about 8″-10″ diameter, but then the rinds never harden and they rot on the vine. They are still blooming so more keep setting, but I've already given up hoping to get any of those by Halloween. From the seeds I bought with free Amazon points, I still have some blue Jarrahdale and white Lumina seeds I'd like to try next year when the Pumpkin Queen's patch is needed again.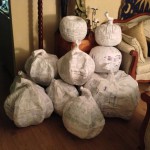 All the pinstriping on the black ornaments was finished back in August thanks to Scary Jerry! He's helped with a lot of the papier-mache too, but I've designed all the pumpkin shapes myself. I just finished the final paper coat on all 13 large pumpkins that still need to be sealed and painted, then I will be purchasing some fresh ones, plus adding to my collection of plastic pumpkins to get up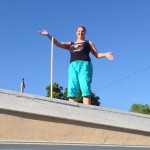 to the number we need. When I said a plethora of pumpkins, I wasn't kidding. There will be 9 just above my garage roofline, among other places! Jerry & I were able to build the base for the spikes those 9 pumpkins will be impaled, using scrap planks and scrap 3/4″ PVC, but with purchased flange bases shimmed to the 1:10 pitch of my roofline.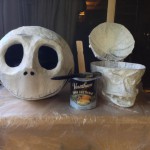 It will come as no surprise that I want a life-size Jack Skellington at my party! However, I am saving some surprises to reveal during the party, so I can't show you everything. I can show you that his head is now almost finished, including 3 coats of spar varnish to protect against moisture dissolving the papier-mache, plus paint over the varnish to avoid the shine.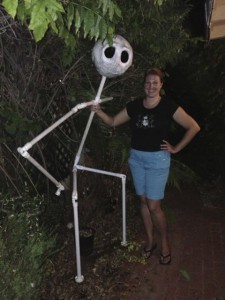 Here you can see how Jack will be standing opposite my front door just off my porch. He is crouching down to fit under the wisteria and my roofline, but I think we have the scale of his limbs pretty good. We are definitely expecting people to want to take photos with him, just like me! 😉
These are Jack's hands, in scale with his arms and face. These are made from two different structures since we learned the first material wouldn't work as well, so it was remade into his left hand cocked at his hip. After the tubing was cut and notched, I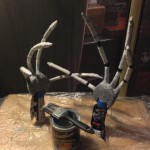 added a single layer of paper strips so the finger bones wouldn't bend with the tubing, then sealed with varnish and painted white like his head. There has been a LOT more work happening, but that's all the progress I can show you so far. Once I get him dressed I'll be able to show you again. 😉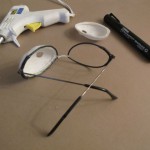 My Sally costume is almost done! Since I'm using the same shoes, socks, wig & tights as 19 years ago, it should have been done much earlier, but I have been slammed with the secret projects that have been taking a really long time to troubleshoot. Since my yarn wig was only a loop of elastic band, and that elastic had pooped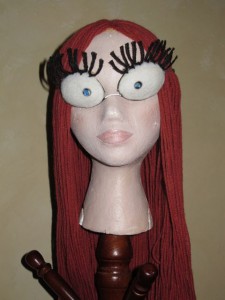 out to overstretched anyway, back around May I handstitched it all to a wig cap to improve it. In June I took the original felt eyes I shaped around eggs and mounted them on the wire frame I used in my 1997 Sally reprise, then added the temple pieces of some lenseless sunglasses I had saved. I also added black yarn eyelashes and used fabric stiffener to keep them the correct shape. Now I have perfect Sally eyes that I can easily remove when I actually need to see!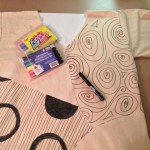 I still do have enough of my Blythe Spirit pale blue pancake base for my face and neck, but there was no way I would be able to keep makeup on my arms and hands with all the hostessing duties I do these days, so I searched long enough to find opera length pale blue matte stretch satin gloves that actually do reach almost to my armpits! Extra bonus since I was able to use free Amazon points too! I was hoping to handstitch yarn for 3D effect, but since the gloves are so stretchy, I don't think that will work,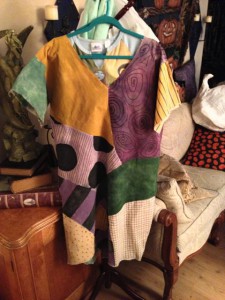 so I just drew the stitches with a permanent marker, just like the tights. I'm hoping to find some fake black fingernails during Halloween Shopping Weekend that I can just hotglue to be easier and more realistic shape, otherwise I'll use black nail polish directly on the gloves.
I had to make a new dress since I have changed shape in the past 19 years, mostly in the chestal area, so this time I sewed an unbleached muslin sheath dress with added pockets (no, not the pocket she uses in the movie, but hidden seam pockets at each hip), then I handpainted all the designs as movie-accurate as I could, using textile medium added to a hand-mixed acrylic paint palette. You can't see every view on her back in full lighting in the movie, so I had to take some liberties, some of which were inspired by more vividly-colored products like my Disney pins, shirts, and other collectibles. I am really quite pleased with the handpainted texture since I think it better represents the handmade stop-animation feel of the original Sally. I still need to handstitch the black yarn on all the "seams" for the 3D texture I want, then my costume is ALL DONE, maybe even before October begins!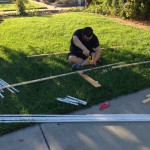 After years of wanting one but not wanting to store it, let alone the expense and work, I finally have a real need for a proper graveyard fence this year. Of course I had saved my original graveyard fence from Halloween 2003, so I thought it would be fun to use that as the design for a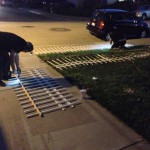 3-foot high fence. Since we could screw the plastic edging in two places to each PVC post, we only needed to drill the bottom 1×2 as the cross-brace. This was a bunch of busy work, not difficult, and the most expensive part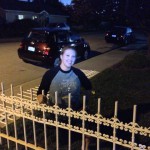 was the rebar I bought to pound into my grass so the fence posts can slide over the rebar to be stable. Next will be foam spikes on the top of each post, then I will spray everything black with my handy compact sprayer in a couple weeks.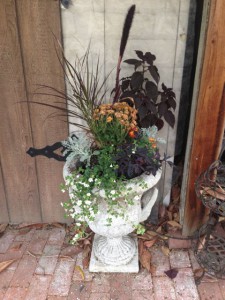 Since I have been making the rounds of hardware & home improvement stores almost every weekend for other projects, I couldn't resist buying cool spooky plants when I saw them. Finally I found my dark purple ornamental millet again, this time in 1 gallon pots for only $6 each, vs. the 5 gallon pot for $25 I found a couple years ago. Each pot was badly rootbound and contained three plants in each, so I split them apart for several urns, plus planted two in the ground already, since mine died in the winter last time, probably from too much water in the pots.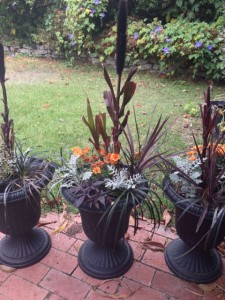 I was also able to split my pots of black mondo grass that have been doing so well in my window box. They were running out of space too, so I cut the entire outer layer away and split into the 4 black urns. My big dusty miller bush out front is starting to poop out, so I got some small 6-packs of starter for the pots now, and I can plant them in the ground after Halloween to keep my ghostly greenery supply going. Some red grass, purple sweet potato vine, and orange mums fill out the rest of the displays. So far the urns have lasted over a week in the sprinkler spray and drip irrigation, so hopefully they will stay looking nice through Halloween night!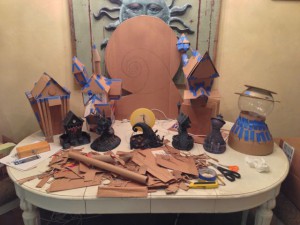 Another major project is my gingerbread Halloweentown! I won't start baking until 2 weeks before the party, but I knew if I didn't design it ahead of time, there's no way I could execute with everything else last-minute that always ends up happening. I used my lighted collectible Halloweentown as models, then created mockups out of cardboard for each building at larger scale so they are easier to add details. The plan is to bake gingerbread around a glass bowl vase I have for the lab observatory "bubble," and I hope that I will be able to pull sugar into the curly mountain. I'm not sure if I will make figures yet, since those are really tricky to make freestanding without cheating and adding internal structure, especially for Jack, so I'm ok if I do not have any Halloweentown residents as edible art this time. I have saved the battery tealight fondant jack o'lanterns that I made for the Ghoulish Gingerbread Haunted House from 2011, so that might be enough to decorate around the curly mountain graveyard pumpkin patch. I'll use new Tasty Tombstone cookies in the curly mountain graveyard too. Hopefully this will be arranged on the dining room table inside on carved foam levels that I can cover with frosting and cookie crumb "dirt," then there will still be room for some food plates in front as well. I'm not completely sure of all the setup yet.
I can't believe I used to not even start major Halloween projects until October began! I remember I built my pipe organ the weekend before my party only five years ago…boy has this grown by leaps and bounds in only a few recent years! Hope your Halloween plans are going well!