I know I'm still behind on documenting Halloween 2012, but since not only have I released new Eerie Elegance products two months in a row, but we've already started projects for this year, I might as well show you some progress so far!
The Eerie Elegance blog & Facebook page already announced the newest DVD "Enhanced Eerie Elegance: 13 Studies in Spooky Style" on June 13th, with several copies already sold the first month. As of July 13th, six new ghosts are now for sale, bringing the total ghost video downloads up to seven! I'm not sure there will be any more new products announced for 2013, but you never know… 🙂

Facebook followers have already seen my progress growing pumpkins this year. Since I bought some seeds in addition to saving rotting pumpkins from last year, and planted a bunch in the ground out front with new drip irrigation starting in late March and staggering new plantings every couple weeks, they are not only healthier plants than last year's pots, but I even have 5 pumpkins growing already! Two Dill's Atlantic Giants are about 6-8″ in diameter, and three Sugar Pies are vivid stripy green and growing past 8″ since they got a head start by a couple weeks. I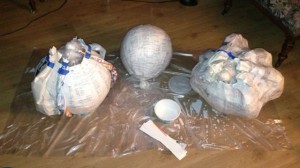 wonder how big the Giants will actually get? The plants along the pathway are the last plantings so are the smallest, but vines are starting with male blooms already. Two of those plants are also Giants, so I'm crossing my fingers for some fun natural decorations for this fall!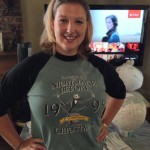 I wasn't able to start any papier-mache until last week, but already good progress is underway. I found several sizes of beach balls for super-cheap at discount party stores or dollar stores, and the largest balls are the big bouncy balls from Target. One of these will be Jack Skellington's head, but the others will be some of the plethora of pumpkins that will decorate my front yard.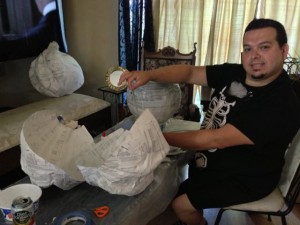 In case you haven't heard yet, for over 5 years now I have been planning for 2013 to be my special Nightmare Before Christmas 20th anniversary party, requiring costumes to be anything in the entire Tim Burton universe. Extra bonus is that it is my own 20th Halloween party in a row, so it will also feature some "best of" highlights from my 20 years of Halloween projects & recipes. Since I have a TON of Nightmare Before Christmas wearables, I've decided to wear what won't get ruined (sequined Jack tank not for messy projects!) while doing Nightmare projects this year…like my 10th anniversary shirt that originally was heather gray, but I overdyed it teal so no one else has this exact same shirt! Bwahahaha! 😉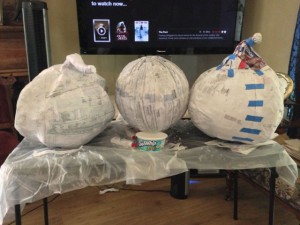 In addition to my ghost writer who has helped the past 2 years, I now also have Scary Jerry of MyScaryHalloween.com joining in the fun! This past weekend was his first ever papier-mache helping start more pumpkins while I reassembled others, and designed & added stems, and we watched good ghost flick The Awakening while we worked. Projects are so much more fun with more people!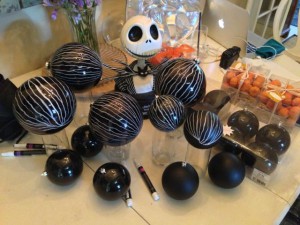 2 full hours of papier-mache is a lot of bending & shoulder lifting, so we took a break to start using white paint pens to pinstripe black ornaments like Jack's suit. I have been buying Christmas & Halloween clearance specifically for this Nightmare party for over 5 years, so I have quite a collection of black ornaments to use. Some will stay solid black, especially the sparkly black ones, and I have a lot of orange & bronze ornaments, and even black pine garlands, with black & white paper ribbon on its way, but I think the pinstriped ornaments give a very specific Nightmare flair!
There is a lot of other work with all three of us that has been going on since about March, but we're keeping some major projects secret…not only for a more exciting reveal, but also in case they don't actually happen as planned! 😉
Hope your Halloween plans are going well so far, or at least you are enjoying your summer!